Reviews

Usage example

Description

How To Edit
Slides
Description
Are you presenting market segmentation, analyzing Gartner magic quadrants, brand positioning, consumer markets, geographic segmentation, IDC market scape, Forrester Wave research, or related presentations? Consider using quadrant diagrams and matrix chart templates to compare your organization's position, showing who the leaders, challengers, or visionaries are.
We have designed flexible quadrant and market segmentation PowerPoint templates to help you make an eye-catching presentation with clear and vivid visuals.
This Quadrant Matrix Diagrams and Market Segmentation Charts PowerPoint Template contains:
17 diagrams illustrating market segmentation, BCG growth share, market analysis, business evaluations, competition position analysis, marketspace segmentation, industry competitional landscape analysis, and competitive marketplace analysis.
All topics are shown on ready-to-use tables, charts, diagrams, and matrices for your or your organization's benefit.
17 icons illustrating topics related to quadrant market segmentation: leader, winner, challenger, focus, competition, quality, opportunity, product, idea, selling, people and more.
Instructions on how to modify these diagrams using standard PowerPoint editing tools.
This presentation is designed in a modern flat graphics style enriched with flat icons.
Format: fully editable, high-resolution vector shapes (modify colors of diagrams and icons, resize without image quality loss)
Presentation templates are also compatible with Keynote and Google Slides.
Why use Quadrant Matrix Diagrams for Market Segmentation?
Grouping a business's market location into a simple matrix structure offers a simple way to organize multiple players for easy understanding. Using two categories gives you a 2x2 matrix that gives you a space for 4 segments that are easy to organize and explain. This type of visual organization is convenient, as you can easily show top market segments and corporate players, or the ones staying behind in your market evaluation criteria. Additionally, you can show a movement of business market locations over the years.
Because of these benefits, quadrant segmentation is a popular form used by various market research companies. For example, Gartner created its Magic Quadrant reports, while IDC and Forrester research have developed similar methodologies based on visual market segmentation.
What are the 4 Segments used in Gartner Magic Quadrant?
Leaders, Visionaries, Niche Players, and Challengers – Gartner divides businesses into groups by vision and execution criteria. Leaders with good vision and execution, Visionaries with vision but not yet executing well, Challengers with good execution but lack of vision and Niche Players who are weak in both criteria considering the whole.
What Market Segmentation Examples Exist Besides Gartner Magic Quadrants?
There are several segmentation frameworks for analyzing the competitive market landscape of businesses in the same niche. Gartner Magic quadrant may be the most known, but other research companies also developed their own approaches. For example, a Forrester Wave chart segmentation by offering and strategy or the IDC Marketscape matrix.
Where can you use the Market Segmentation Templates?
Here are some popular ways to use quadrant segmentations inside a presentation:
Present market segmentation analyses, who are leading corporate players and how they compare
Illustrate market dynamics, how various leaders came to their standing, who's a challenger, catching up thanks to innovation; and what businesses are getting behind
Visualize a market research study summary
Evaluate market strategies, analyzing business criteria such as vision, ability to execute, size, or innovation levels
Comparing the performance of businesses in your niche or global markets
Try using these PowerPoint illustrations to present your content visually in a professional way.
All graphics are editable so that you can modify the colors and text. We also added a general icon collection at the end of the presentation deck. You can also extend the collection with more PPT symbols (see Related Diagrams section).
Fully editable in PowerPoint set of vector shapes fully editable with built-in PowerPoint tools, including
changing the filling and outline color of all shapes and icons
adding shadows
changing shape and size, rotating, flipping the object
putting shapes behind or on top of text
Authors of this Quadrant Matrix Diagrams and Market Segmentation Charts PowerPoint Template
Design by infoDiagram designer.
Contact: here
Slides included in this PowerPoint Presentation:
How To Edit
How to edit text & colors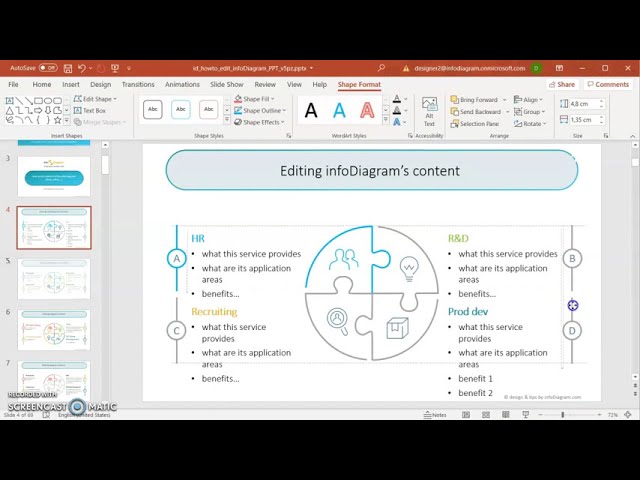 How to expand / shorten diagram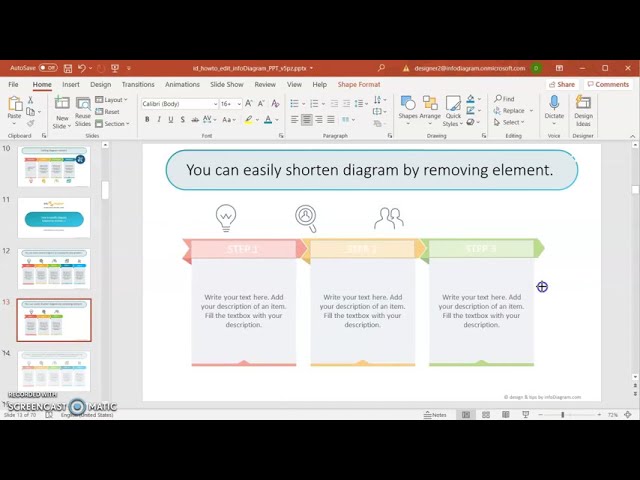 How to Replace Icons in infoDiagram PPT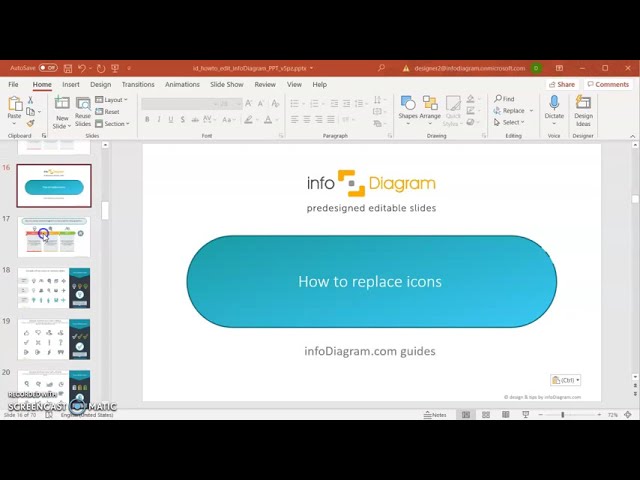 Quadrant Matrix Diagrams and Market Segmentation Charts (PPT Template)