Reviews

Usage example

Description

How To Edit
Slides
Description
Effective meetings don't happen by accident. Setting an agenda for the meeting helps everyone stay productive and on track. Need to give participants a clear outline of the meeting purpose, content, timeline, and the role they are expected to play? Use our creative graphical charts and iconographic graphs to make your agenda stand out and to create a real buzz about the planned gathering!
This Meeting Outline Agenda & Sections Indicators infographics collection contains:
30 diagrams to illustrate meeting topics, progress charts, agendas, navigation bars and presentation outlines.
Slides are designed in a light outline style. Use these diagrams to depict your thoughts visually and create attractive agendas.
46 outline symbols to show various business concepts e.g.Goal, Target, Group Meeting, Agreement, Audience, Market Share, Performance, Executive Summary, Teamwork.
Instruction on how to modify those diagrams using standard PowerPoint editing tools.
Format: fully editable vector shapes (modify colors of diagrams and icons, resize without quality loss)
What is a Meeting Outline Agenda & Sections Indicators slides deck?
A meeting agenda is a list of topics or activities you want to cover during your gathering in a specific, predefined time frame. Having this information before and during the meeting ensure that it proceeds efficiently and productively. Poor design of agenda can result in ineffective meetings and waste of participants' time.
Why use graphical Agenda & Sections Indicators?
Everyday we participate in various types of meetings: strategy planning, business updates, sales conferences, kick-offs and so on. An effective agenda sets clear expectations for meeting goals and discussion points. If you want to provide a logical guide for business and discussion, bring harmony and efficiency to a meeting, help restrain participants from speaking out of turn our agenda template is a perfect tool for that.
We provide you with the predesigned deck including the following important diagrams and infographics: meeting agenda template, section slides, progress indicator timelines, navigation bars and table of content which you can use for any presentation and document. All agenda shapes are easy to modify. We include a detailed instruction on how to alter the content, colors and look and feel of the slides.
Where can you use the Meeting Outline Agenda & Sections Indicators graphics?
Using visualizations and agenda graphics will help you to make the audience interested and engaged in the meeting.
Facilitate your meeting in a professional way, using clear and strong visuals in your presentation.
Create a meeting flow using clock quarter circle and present each section on a separate slide.
Present your meeting objectives and discussion points with modern hexagon layout.
Visualize with chevron timeline and create a list of activities for each stage..
Prepare the plan for each section of your presentation with a bottom horizontal or side progress bar.
Illustrate presentation agenda with icons and progress timeline, which includes Meeting Opening, Goals, Report, Implementation, Conclusions Summary, Next Steps, Closing.
Create a presentation table of contents to list all sections in the beginning of the meeting.
Design stylish section slides with picture background.
All graphics are editable, so you can modify the colors and text. We also added a general icon collection at the end of the presentation deck. Optionally you can also extend the collection by more PPT symbols (see Related Diagrams section).
Fully editable in PowerPoint set of vector shapes fully editable by using built-in PowerPoint tools, including
change the color of all shapes filling and its outline, including icons
adding shadows
changing shape and size, rotating, flipping the object
putting shapes behind or on top of text
See editing demonstration in
our HowTo Videos
.
Authors
infoDiagram's designer
Contact: here
Slides included in this PowerPoint Presentation:
How To Edit
How to edit text & colors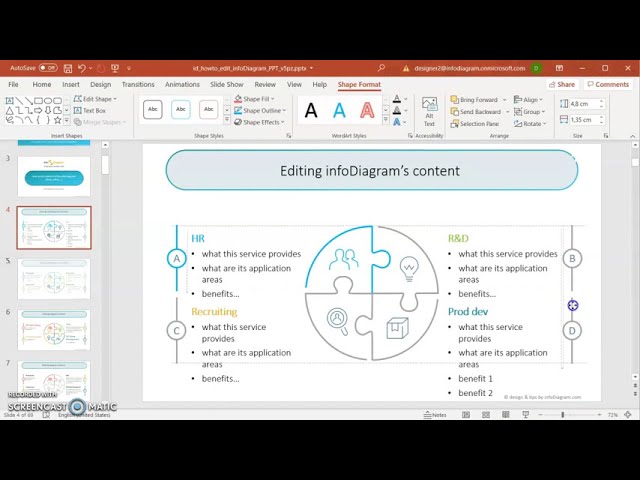 How to expand / shorten diagram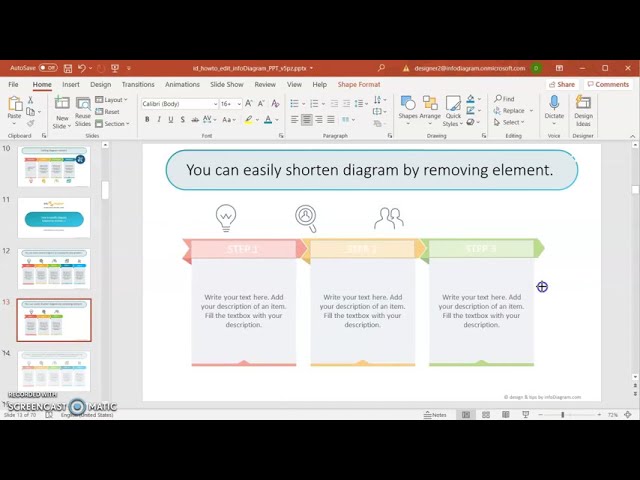 How to Replace Icons in infoDiagram PPT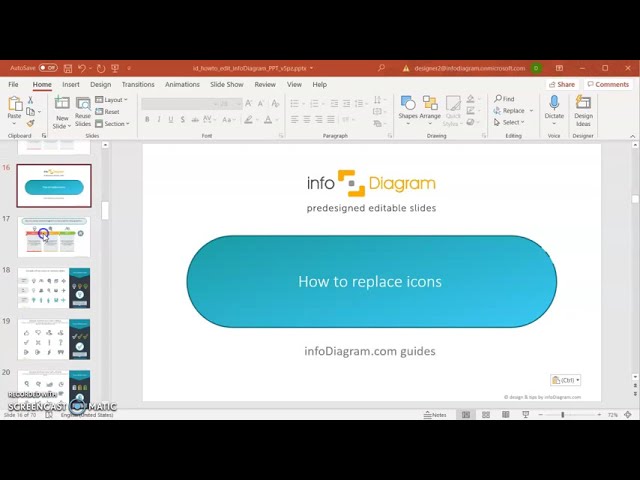 Meeting Outline Agenda & Sections Indicators (PPT Template)