Reviews

Usage example

Description

How To Edit
Slides
Description
Flow chart template with creative infographics design made in PowerPoint. You can apply these editable flowcharts to illustrate how informatics algorithm works or various decision processes.
This flowchart PPT slide template contains:
11 flowchart examples - blank flow chart diagrams as well as several business examples of Login process flowchart, HR Recruiting process, and Ordering process.
3 diagram styles: unique hand-drawn flow charts and symbols, modern flat diagrams with simple icons, and elegant line flowcharts and line symbols
instruction on how to create a flowchart using these PowerPoint shapes and connectors and guide on how to edit flowchart symbol color and outline stroke
Format: fully editable vector shapes (modify colors of diagrams and icons, resize without quality loss)
What is a flow chart diagram?
Visual representation of workflow in form of specific diagram shapes connected by arrows. Typically used to present a decision process or in IT to represent algorithm steps. The flow charts have defined start and end status nodes, input/output nodes, and decision points (usually a binary answer question or condition that results in positive and negative output path).
How to use flow chart diagrams as your presentation visuals?
Illustrate the algorithmic steps process of a discrete procedure flow.
Present decision process flow
Present visually an ordering process in logistics or e-commerce
Show website visitor journey in web design e.g. a login process
Represent a logical flow of HR business processes (recruitment process) or document processing
Why use those creative flow chart designs as your presentation visuals?
Using process flow visuals helps to:
show a continuous process.
express your decision in a clear way.
look professional using flat or outline flowchart symbols
create a personal touch in your presentation with hand-drawn diagram symbols.
Content description
Process Flow Chart Diagram contains ready-to-use slides:
A login process scheme illustrated with the modern flat flowchart.
Ordering process flowchart example in outline style on light and dark backgrounds with icons and place for a short text description.
Recruitment process scheme in hand-drawn style in 2 versions: on a light and dark slide filling.
Algorithm flowcharts in flat, hand-drawn, and outline styles.
The full list of the symbols presented in the Process Flow Chart Diagram:
Flowchart elements and shapes in flat, outline, and hand-drawn styles: start, end, process step, input, output, decision, document, predefined process, delay, display, connector, and off-page connector.
Flat, outline, and hand-drawn flowchart icons: start, end, process step, input, output, decision, document, predefined process, delay, yes, no, display, shopping cart, payment, agreement, handshake, email.
Fully editable in PowerPoint set of vector shapes fully editable by using built-in PowerPoint tools, including
changing the color of the icon filling and its outline
adding shadows
changing shape and size, rotating, flipping the object
putting shapes behind or on top of text
Authors
infoDiagram's designer
Contact: here
Slides included in this PowerPoint Presentation:
How To Edit
How to edit text & colors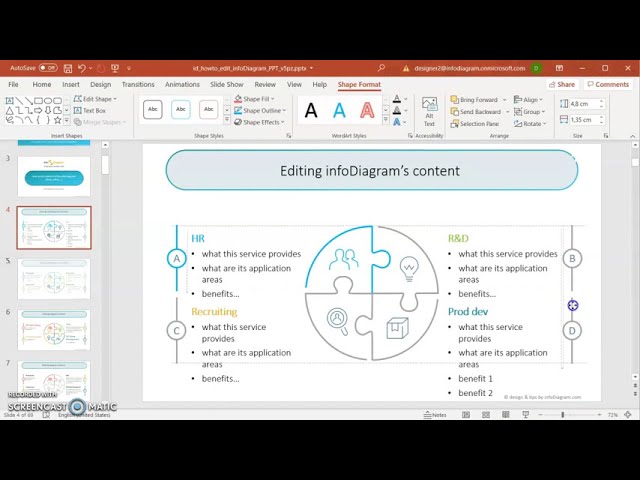 How to expand / shorten diagram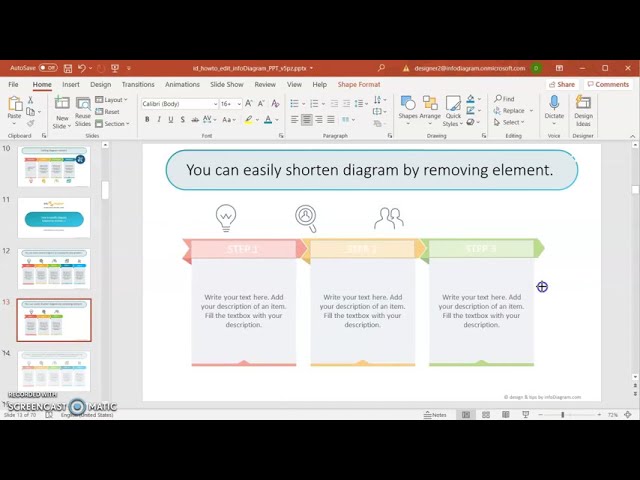 How to Replace Icons in infoDiagram PPT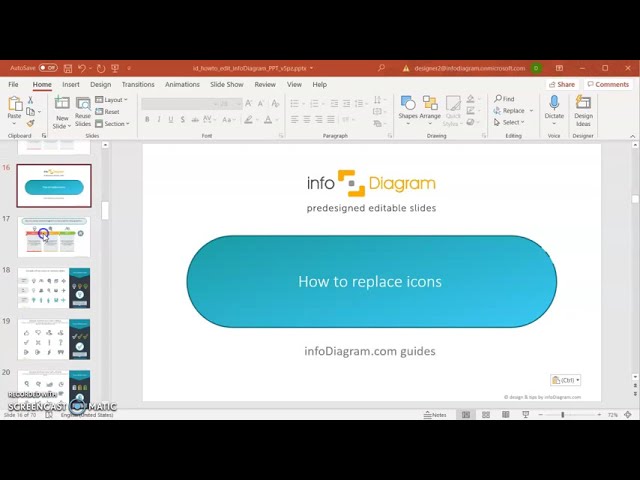 Flow Chart Template for Process and Algorithm with Creative Infographics