Reviews

Usage example

Description

How To Edit
Slides
Description
Do you want to present a project case study to a client? We've designed a case study Template to help you quickly create overviews of sales projects that will look professional. Describe business problems, do gap analyses, and describe possible solutions in an effective way.
You can save time using this business case blueprint with the proposed structure and graphics.
This PPT template contains:
29 slide layouts with case agenda, problem statement, current processes overview, gap analysis, and evaluation of possible solutions. We also added slide templates describing implementation steps and the planned actions calendar.
36 icons related to sales, finance, and company operations e.g. Costs, Return on investment, Revenue, Value, Research, Plans, Tactics, Strategies, Targets, Products, Processes, Challenges, and Alternative Solutions.
Instructions to help you understand how to modify those diagrams using standard PPT editing tools.
Format: fully editable vector shapes (modify colors of diagrams and icons, resize without image quality loss).
This presentation is designed in a modern light outline graphics style with outline symbols.
You can also download our Sales Case slide redesign instruction and demo How to Present Business Case Comparison (PDF guide here).
What is a Sales Case Study?
Case studies tell a presentation story on how a business solved their problems, based on real-life examples. Good, effective case studies contain an overview of the whole process - from client and situation description, needs breakdown, problem identification, and gap analysis/investigation to solutions proposal and implementation.
Creating a case study that is balanced usually focuses on presenting one proposed solution, and its benefits compared with several alternatives. It also includes an examination of the financial impact, comparing financial KPIs before and after the implementation.
Why use a Visual Form for Case Study Presentations?
A good case study that is well presented is a powerful sales tool. Therefore, it should not be a boring monotonous presentation, but an engaging story with real numbers, specific processes descriptions and the reveal of measurable financial impacts, if possible.
To present these facts in an easy-to-read form, use graphical forms such as data charts for financial information, list diagrams for presenting key benefits, infographics showing main KPIs, and pictures illustrating the theme.
That's why we created a PPT template with visual elements you can modify and use for your sales case.
Where can you use the Sales Case Study Template?
The case study presentation template and graphics can use applied in various contexts, for example:
Make a sales proposal of your solution (e.g. use your product in x to solve x sales problem)
Present a case of a success story to sell your solution to new clients or potential customers
Vividly describe a real-life case study example or testimonial to show your expertise.
Create an attractive sales pitch for a new product or service
Perform problem investigations and create an attractive visual report
Illustrate a portfolio of your projects, along with their implementation
Present your consulting experience with a showcase of projects you've delivered
Educate your audience using real-life business examples presented in an engaging way
You'll be able to create attractive teaching materials on business subjects
Show a complete process of solution implementation, including problem investigations and final impacts
Try using these PowerPoint illustrations to present your content visually in a professional way.
All graphics are editable, so you can modify the colors and text. We also added a general icon collection at the end of the presentation deck. Optionally you can also extend the collection by more PPT symbols (see Related Diagrams section).
Fully editable in PowerPoint set of vector shapes fully editable with built-in PowerPoint tools, including
changing the filling and outline color of all shapes and icons
adding shadows
changing shape and size, rotating, flipping the object
putting shapes behind or on top of text
Authors of Sales Case Study PowerPoint template
Design by infoDiagram designer.
Contact: here
Slides included in this PowerPoint Presentation:
How To Edit
How to edit text & colors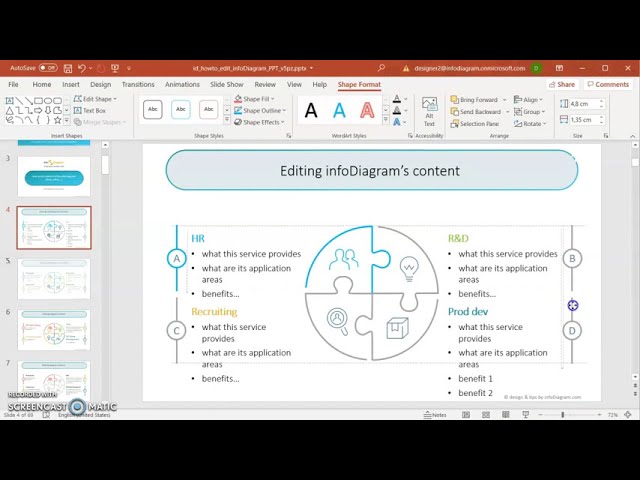 How to expand / shorten diagram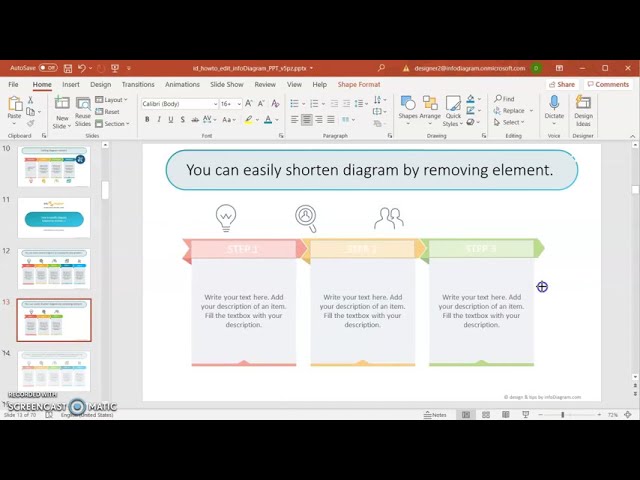 How to Replace Icons in infoDiagram PPT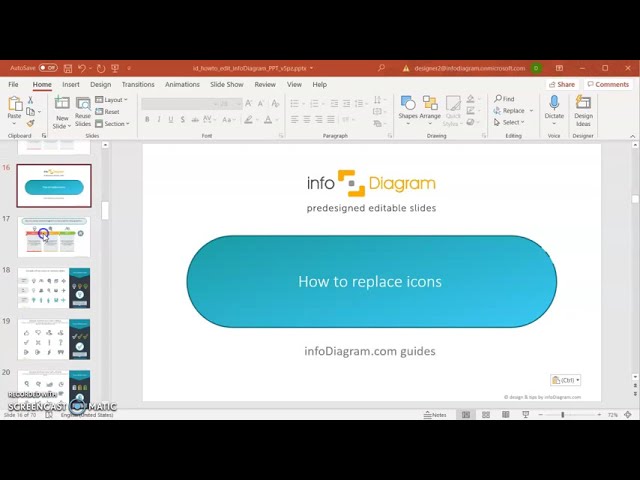 Sales Business Case Study Template (PowerPoint graphics)