Reviews

Usage example

Description

How To Edit
Slides
Description
Do you want to present top performers, announce the winners of a competition? We have designed a set of Olympic stairs graphics you can use to illustrate a victory in a business challenge, awards nomination of gold, silver and bronze prize.
This PowerPoint template with Winners Podium graphic contains:
15 various illustrations of sport podiums, with best 3 winners or even 5 winning places, staircase steps towards success, award graphics in form of a golden cup or medals.
Three graphical styles - modern flat graphics, creative hand-drawn shapes of victory steps and elegant light line graphic.
28 icons in those 3 styles (scribble, flat, outline) to present various business concepts e.g. target goal, prize, future vision, planning, checklist, product item, progress steps, winner pose, award medal, flying superman as the best winner symbol.
Instruction how to modify those diagrams using standard PowerPoint editing tools
Format: fully editable vector shapes (modify colors of diagrams and icons, resize without quality loss)
Winner podium steps: When to use those as your presentation visual?
The graphics of sport winner steps is a great metaphor to represent various comparisons or ranking - of a product, service or a contest.
You can place the best solution on the gold medal position and accompany it with the second and third-best option. You can also use this stair concept as a way to reach ultimate success.
Having such graphics on a slide will attract attention to your presentation without the need to be wordy.
Examples where you can use those concept of a sport victory:
Present the top performers in your organization - best employee, sales person or other award winners.
Compare the best 3 products.
Evaluate various solutions along with their brief descriptions
Visualize ranking of the product review.
Announce the winner of not only a sport competition but any gamification task.
Winner podium steps slide deck is a graphics collection with winners themed layouts. You can use this graphics template for illustrating topics like success, business winner, business competition, appreciation, motivation. Show the top winners in any competitive match or the top achievers in a field with podium graphics. Get the golden trophy diagram as well as silver, bronze trophy infographics for your PPT slides. May the best man win. Editable infographic and amazing colorful schemes can make your presentation shine.
Winner podium steps diagram contains set of fully-prepared slides:
Competition winners podium diagram
Template victory stand graphics illustrated with trophy icons
Success factor diagram showed with trophy cup infographics
Olympic podium styled with hand-drawn scribble design
Hand-drawn scribble design depicting award cup and winner stairs graphics
Three contest winners template depicted in hand-drawn style with text boxes
Awards winner announcement illustrated in hand-drawn design
Winner podium stairs and cup shown with light outline graphics
Contest announcement podium with light outline infographics
Three steps to victory slide showing with outline diagram template
Best three performers template with outline award cups icons
Top five performers template illustrated with outline cups graphics
Outline diagram intended to show staircase to winner trophy
Central list diagram showing success factors and golden cup
Try using those PowerPoint illustrations to present your content visually in an elegant way.
All graphics are editable, so you can modify the colors and text. We added also a general icon collection at the end of the presentation deck. Optionally you can also extend the collection by more PPT symbols (see Related Diagrams section).
Fully editable in PowerPoint set of vector shapes fully editable by using built-in PowerPoint tools, including
change the color of all shapes filling and its outline, including icons
adding shadows
changing shape and size, rotating, flipping the object
putting shapes behind or on top of text
See editing demonstration in
our HowTo Videos
.
Authors
infoDiagram's designer
Contact: here
Slides included in this PowerPoint Presentation:
How To Edit
How to edit text & colors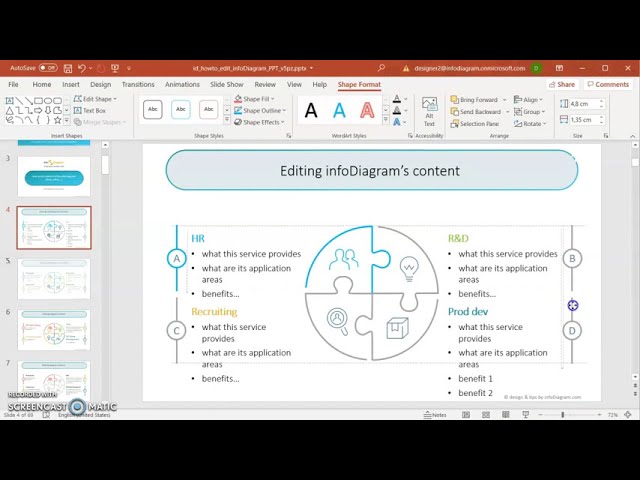 How to expand / shorten diagram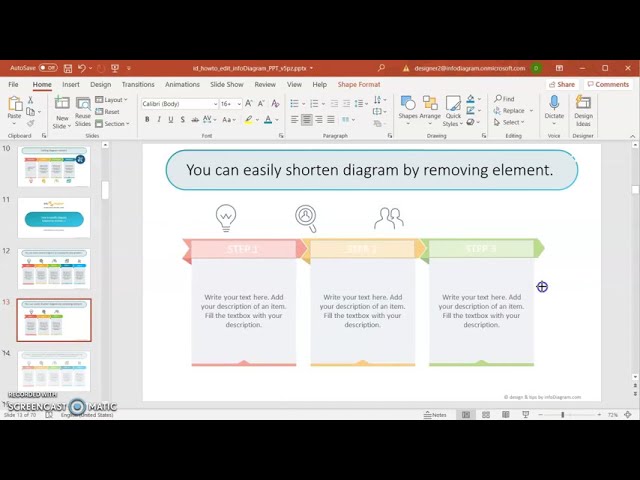 How to Replace Icons in infoDiagram PPT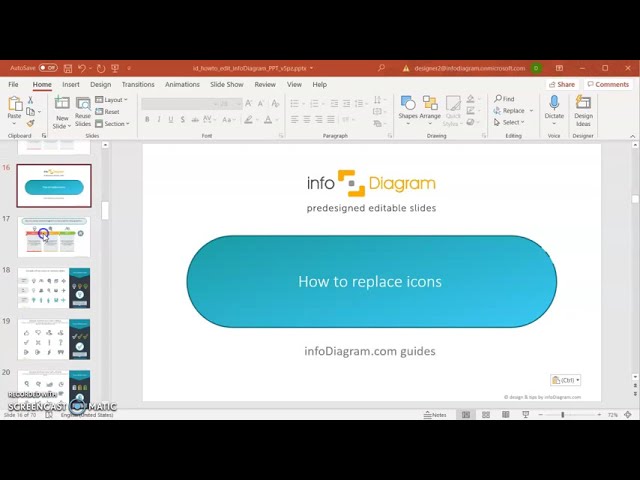 Winner Podium Steps Presentation Graphic (PPT Template)