Reviews

Usage example

Description

How To Edit
Slides
Description
Do you need to present company due diligence processes, plans, or reports? You can explain M&A phases, audit areas, and types using visual editable graphics that will help you keep the right balance of words and visuals. We've designed a Due Diligence Template collection that you can use to create impactful and professional-looking slides.
This Due Diligence Process, Types, Checklists slide template contains:
13 diagrams to show due diligence definition, M&A process, action plans, and frameworks.
Universal style diagrams in a modern flat-filling style that fits any visual identity style (feel free to adapt colors to your brand ones).
40 outline symbols to illustrate due diligence concepts such as Law, Strategy, Analysis, Financial Report, Growth, Fairness, Balance, Intellectual Property, Income, and Agreement.
Instruction on how to modify those diagrams using standard PowerPoint editing tools.
Format: fully editable vector shapes (modify colors of diagrams and icons, resize without quality loss).
What is company Due Diligence?
The due diligence process is a set of actions expected to be taken by one party of a business agreement, e.g. in the M&A process. The goal is to audit different areas of the company such as financial, technical, and legal to keep the highest standards of care.
Where can you use Due Diligence Processes & Checklists diagrams?
These graphics will help you design engaging and interesting slides so that your audience will consume the information at a quick glance.
Explain what Due Diligence is starting with a definition.
Mention an inspirational quote to keep the attention of listeners.
Visualize Mergers & Acquisitions with the due diligence phase with a process diagram containing the following stages: M&A Strategy, Target Screening, Transaction Execution, and Integration.
Present types of Due Diligence: Operational, Financial, Commercial, IT, Intellectual, and HR.
Illustrate DD audits framework with Compatibility, Legal, Marketing, Production, and Management areas.
Design Due Diligence action plan matrix template for Activities and Departments, Business, Financial and Legal Levels.
Create a DD project stair diagram, including 5 phases: Existing Situation, Primal Study, Evaluation, Analysis, and Finalizing Steps.
Present Due Diligence process roadmap diagram with the following steps: Purpose, Risk Analysis, Tax, Financial and Technical Documents Audit.
Show legal Due Diligence checklist template in the form of simple arrow bullet points or table.
Present company acquisitions yearly timeline template.
Visualize Due Diligence concerns and solutions using a comparison diagram. Try using those PowerPoint illustrations to present your content visually in an elegant way.
Try using those PowerPoint illustrations to present your content visually in an elegant way.
All graphics are editable, so you can modify the colors and text. We also added a general icon collection at the end of the presentation deck. Optionally you can also extend the collection by more PPT symbols (see Related Diagrams section).
Due Diligence Graphics Collection contains pre-designed slides:
Content of due diligence visuals deck
Due diligence definition and quote template
Mergers and acquisitions process diagram
Types of due diligence diagram
Due diligence audits framework slide
Due diligence action plan matrix template
Due diligence project five phases stair diagram
Due diligence process roadmap diagram
Legal due diligence checklist template
Due diligence checklist table template
Company acquisitions yearly timeline template
Due diligence concerns and solutions diagram
Fully editable in PowerPoint set of vector shapes fully editable by using built-in PowerPoint tools, including
change the color of all shapes filling and their outline, including icons
adding shadows
changing shape and size, rotating, flipping the object
putting shapes behind or on top of text
See the editing demonstration in
our HowTo Videos
.
Authors
infoDiagram's designer
Contact: here
Slides included in this PowerPoint Presentation:
How To Edit
How to edit text & colors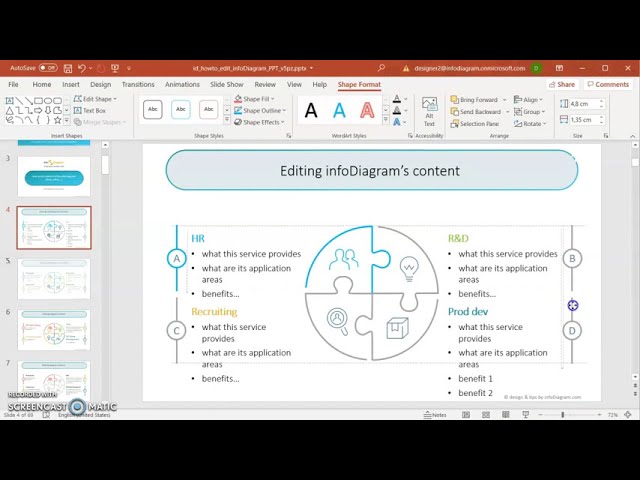 How to expand / shorten diagram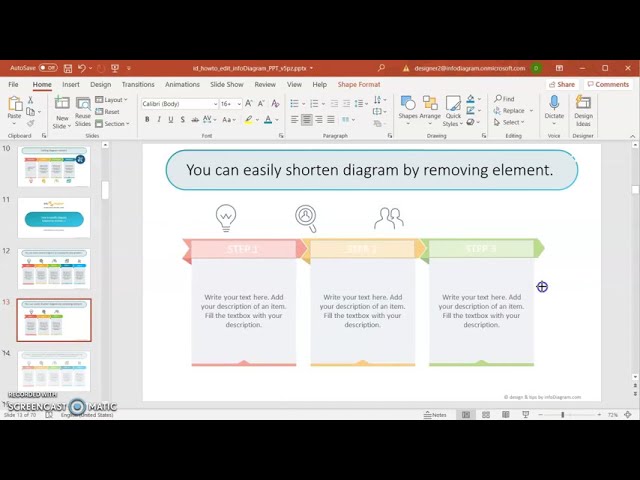 How to Replace Icons in infoDiagram PPT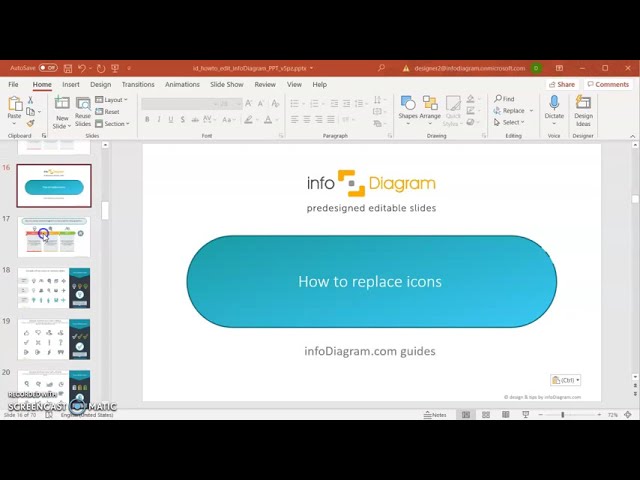 Due Diligence Process, Types, Checklists Diagrams (PPT Template)