Reviews

Usage example

Description

How To Edit
Slides
Description
Are you looking for visuals to present a history of an established company? Timelines are the best tool for showing important events in a selected period of time. We've designed an established company PowerPoint template that you can use to illustrate corporate mergers and acquisitions, organization development history, organization milestones, and more in a clear, easy-to-follow visual way.
This Established Company Infographics PPT deck contains:
9 timeline diagrams to present the established company's variety of events and milestones over the years.
Slides are designed in a modern flat style, complemented with light outline icons. Use them to depict your thoughts visually and present complex ideas in a clear attractive way.
24 outline icons to help you show various business concepts e.g. Foresight, Merger, Planning, Certification, Headquarters, Investment, Market, and Negotiations.
Instruction on how to modify those diagrams using standard PowerPoint editing tools.
Format: fully editable vector shapes (modify colors of diagrams and icons, resize without quality loss)
What is a company history timeline?
A visual form of showing the development of an organization, from its establishment, through growth and key events till today. Instead of a bullet point enumeration of events, it is better to use some kind of flowchart. Having a visual timeline diagram you can also illustrate side events such as mergers and acquisitions or split of an institution.
Where can you use the Company History Timelines?
These diagrams will save you time on design and will help you to present your points clearly without losing the attention of the audience.
Illustrate company history with distinct segments.
Visualize corporate mergers and acquisitions with an effective flowchart.
Design a company milestones timeline by changing icons to fit your message.
Illustrate organization history using a timeline with a place for your photographs.
Determine key historical events and possible future direction in yearly timeline templates.
Show the most important information about your company's different decades. Try using those PowerPoint illustrations to present your content visually in an elegant way.
Try using those PowerPoint illustrations to present your content visually in an elegant way.
All graphics are editable, so you can modify the colors and text. We also added a general icon collection at the end of the presentation deck. Optionally you can also extend the collection by more PPT symbols (see Related Diagrams section).
Fully editable in PowerPoint set of vector shapes fully editable by using built-in PowerPoint tools, including
change the color of all shapes filling and their outline, including icons
adding shadows
changing shape and size, rotating, flipping the object
putting shapes behind or on top of text
See the editing demonstration in
our HowTo Videos
.
Authors
infoDiagram's designer
Contact: here
Slides included in this PowerPoint Presentation:
How To Edit
How to edit text & colors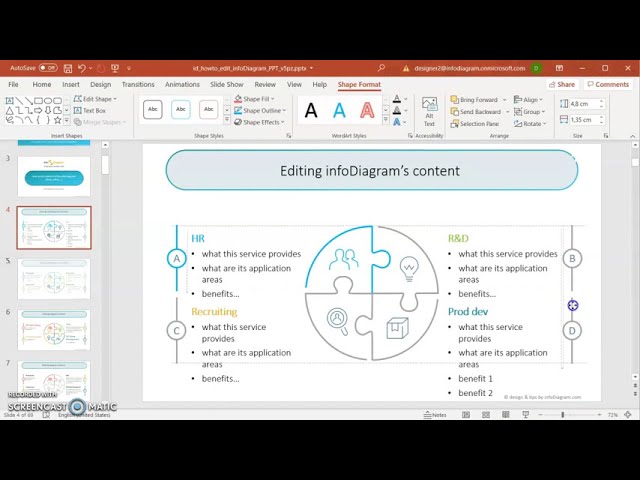 How to expand / shorten diagram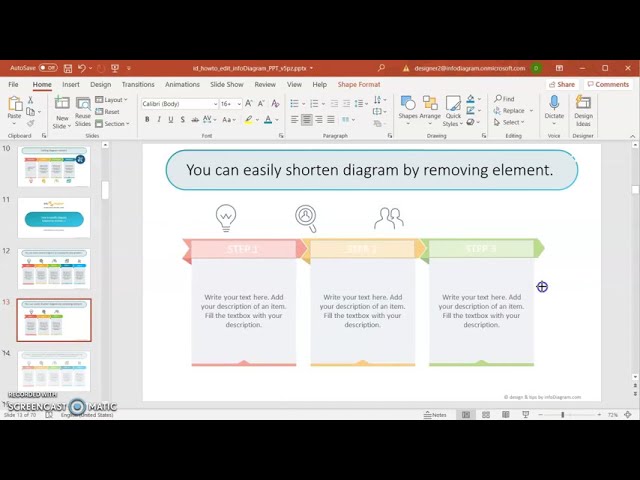 How to Replace Icons in infoDiagram PPT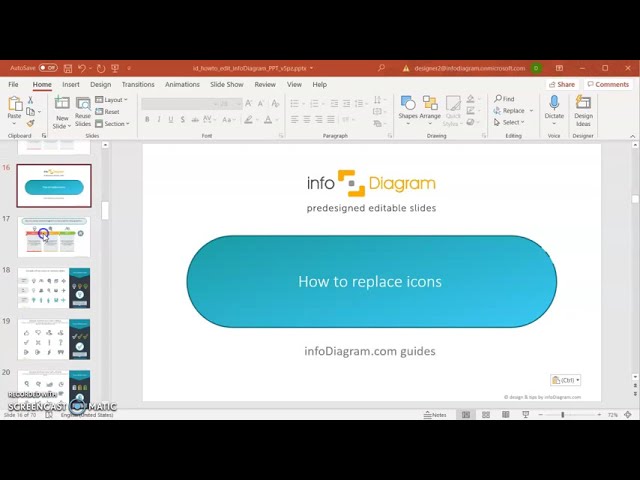 Established Company History Timeline (PPT Template)