Reviews

Usage example

Description

How To Edit
Slides
Description
Think of all the meetings you attend in one week. And in a month? Those are team meetings, daily standups, one-on-one meetings, metrics reviews, and so on. To make the most of each meeting, it is important to have a well-thought and well-designed agenda. If you skip creating a plan for a meeting and agenda, then your meetings can quickly go off track and you lose much time discussing random topics.
We created this collection which contains visual agenda diagrams and presentation progress tracking layouts so you can use them to create informative professional-looking slides and design an agenda that is pleasing to the eyes. You will also find slide templates that you can use for presenting navigation and progress bars.
This Agenda Section Progress Bars diagrams collection contains:
24 diagrams to illustrate progress charts, agendas, navigation bars, and presentation outlines.
Two graphical styles - modern flat style and lighter slick outline style. Use them to add a professional touch to your slides and present data in both clear and creative ways.
57 flat and outline symbols to show various business concepts e.g.Time Flow Indicator, Plant Seed Growth Stages, OK, GO, Checkmark, Goal, Group Meeting, Teamwork, Agreement, Executive Summary Sheet, and Organizational Structure Chart.
Instruction on how to modify those diagrams using standard PowerPoint editing tools.
Format: fully editable vector shapes (modify colors of diagrams and icons, resize without quality loss).
Where can you use the Agenda Section Indicator Flat Progress Bars graphics?
Using visualizations and graphics will help you create nice slides, which will keep the attention of the audience and your presentation won't be monotone.
Create a meeting agenda template in the shape of a clock circle and present each section on a separate slide.
Illustrate an agenda with 3 or 5 arrows for each chapter.
Visualize the presentation agenda with a chevron timeline or pillars diagram.
Show where you are with the help of chevron arrows agenda and progress indicator.
Visualize the plan for each section of your presentation with a bottom horizontal or side progress bar.
Illustrate the presentation agenda with icons and progress timeline, which includes Meeting Opening, Objectives, Report, Implementation, Conclusions Summary, Next Steps, and Closing.
Create creative agenda using a 7-elements hexagon diagram. You can tailor the number of elements to your needs.
Design a presentation table of contents and illustrate it with an icon or picture. Try using those PowerPoint illustrations to present your content visually in an elegant way.
Try using those PowerPoint illustrations to present your content visually in an elegant way.
All graphics are editable, so you can modify the colors and text. We also added a general icon collection at the end of the presentation deck. Optionally you can also extend the collection by more PPT symbols (see Related Diagrams section).
Agenda Section Indicator Flat Progress Bar collection contains pre-designed slides:
Meeting agenda template depicted clock circle with 1+3+1 sections
Meeting section 1, 2 and 3 slide showed with clock circle
Agenda graphics with three and five chapters arrows
Presentation agenda chevrons for four stages timeline
Meeting agenda with five pillar sections diagram
Single section slide pillar diagram with detailed description
Chevrons arrows agenda with six sections
Bottom horizontal progress bar with chevrons section arrows agenda
Bottom horizontal progress indicators set
Presentation agenda icons and progress timeline
Bottom progress bar showed with linear timeline movable circle
Bottom progress bar indicators set illustrated with linear timelines with movable circle
Side progress bar depicted with movable indicator
Presentation agenda outline for six numbered sections
Presentation agenda with section side navigation bar
Section side navigation bars for six items
Hexagon points agenda for seven elements
Hexagon section corner progress indicator
Hexagon section side progress indicator
Key agenda timeline illustration for eight sections
Presentation table of content plain text with picture template
Fully editable in PowerPoint set of vector shapes fully editable by using built-in PowerPoint tools, including
change the color of all shapes filling and their outline, including icons
adding shadows
changing shape and size, rotating, flipping the object
putting shapes behind or on top of text
See the editing demonstration in
our HowTo Videos
.
Authors
infoDiagram's designer
Contact: here
Slides included in this PowerPoint Presentation:
How To Edit
How to edit text & colors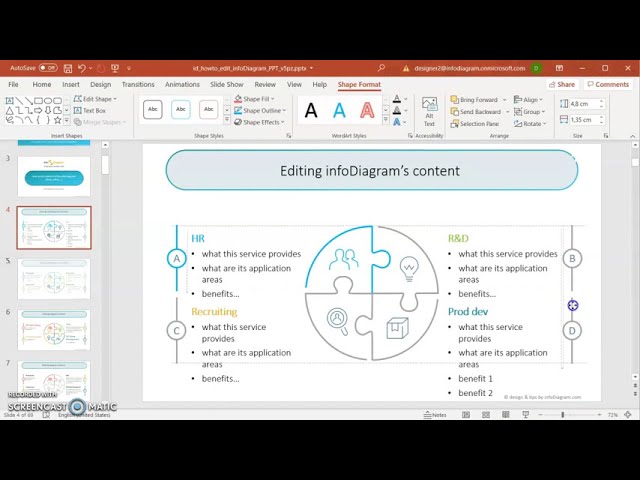 How to expand / shorten diagram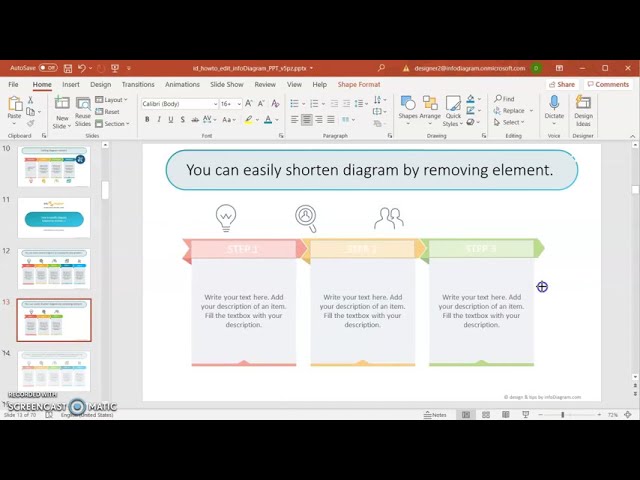 How to Replace Icons in infoDiagram PPT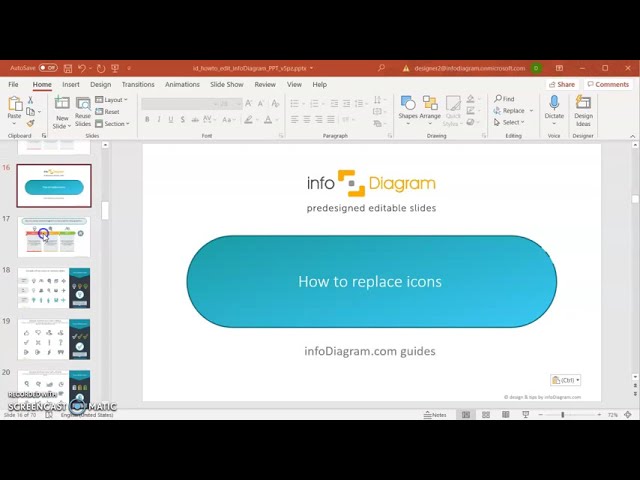 Agenda Section Indicator Flat Progress Bars (PPT Template)