Reviews

Usage example

Description

How To Edit
Slides
Description
Tired of all the same SmartArt graphics? We designed a set of simple but yet professional-looking Production Line and Conveyor Belt diagrams. You can illustrate specific processes, like a product launch, or use such visuals for creating timelines and flowcharts.
The production line PowerPoint template includes:
21 diagrams with assembly line and conveyor belt graphics to present different kinds of business processes, product or service launch, show timeline with any number of elements or flowchart
usage examples of conveyor belt diagrams to illustrate product development from pre-launch to post-launch, timeline presenting eight stages of business idea launch from idea generation to its introduction
set of 26 flat and 18 outline symbols (can be extended further) to illustrate business and product dev concepts: Design, Creating, Progress, Product, Media, Person, Client, Talk, and more.
instruction how to modify those filtration diagrams using PowerPoint editing tools
Format: fully editable vector shapes(modify colors of diagrams and icons, resize without quality loss.
Production line diagrams: Why to use them in as a presentation visual?
The conveyor belt or assembly line in production are good visual metaphors to show multi-stage processes. You can include such graphics in your next presentation when you will be talking about ideas development, product launch as well as while presenting the project timeline.
The set is made in modern flat and outline styles so the graphics will suit any of your presentations. We included editable diagrams with a various number of elements and steps, so you can use these Production Line diagrams right away.
How to use Production Line charts in a presentation
Here are examples where you can apply those diagrams:
Describe the process flow or explain step-by-step procedure
Illustrate all product or service launch phases including marketing planning and research, social media strategy, product launch campaign and customer satisfaction programs
Express timelines of a business strategy milestones.
Create a detailed infographics from idea generation to the product introduction
Conveyor belt is a unique diagram that can be used to present specific topics as well as multiple subjects. You can illustrate cycles, flows and procedures in the slide layout. Conveyor belt slides can serve as a metaphor of product or service launch including step-by-step phases. Conveyor Belt Production Line Graphics will be a whole new idea to work up for your presentation but it will surely give you a heads up with this creative template.
Conveyor belt production line graphics contain ready-to-use modern diagrams, and charts illustrated with symbols dedicated to the following topics:
Conveyor belt with flat and outlined graphics for 4 elements
Conveyor belt illustration intended to show the list of four objectives
Production line conveyor diagram for four and five items depicted with description boxes
New product and service launch process slide
Six stages conveyor belt loading process showed with flow chart/ outline flow chart
Timeline template for eight steps illustrated with conveyor belt graphics
New product development roadmap slide
Curvy production for five product stages with line diagram and outline graphics
Long conveyor belt process flow chart for seven steps
Assembly line for four production steps showing launch process
Assembly line infographics with tall product boxes
Conveyor belt diagram with 5 products
Simple carrying belt for two and three products
Simple carrying belt for three products illustrated with outline graphics
Template product packaging process slide
Two сolumns text lists showing from – towards layout
Why use Conveyor belt production line graphics :
easy to present a large amount of information thanks to structurized way
easy to summarize the main points in the presentation and even to initiate the same with the index topics
easy to explain complex concepts with the help of conveyor belt graphics
easy to adapt to any industry or branch: medicine, retail, academic, financial etc
by using modern conveyor belt design your presentation will look professional, persuasive and logic
Consider using those PowerPoint charts to replace text bullets in your slides.
All graphics are editable, so you can modify the colors and text. We added also a general icon collection at the end of the presentation deck. Optionally you can also extend the collection by more PPT symbols (see Related Diagrams section).
Photographs are included in the template. You can easily replace them as well by pictures of your own.
Fully editable in PowerPoint set of vector shapes fully editable by using built-in PowerPoint tools, including
change colors of all shapes filling and its outline, including icons
adding shadows
changing shape and size, rotating, flipping the object
putting shapes behind or on top of text
See editing demonstration in
our HowTo Videos
.
Authors
infoDiagram's designer
Contact: here
Slides included in this PowerPoint Presentation:
How To Edit
How to edit text & colors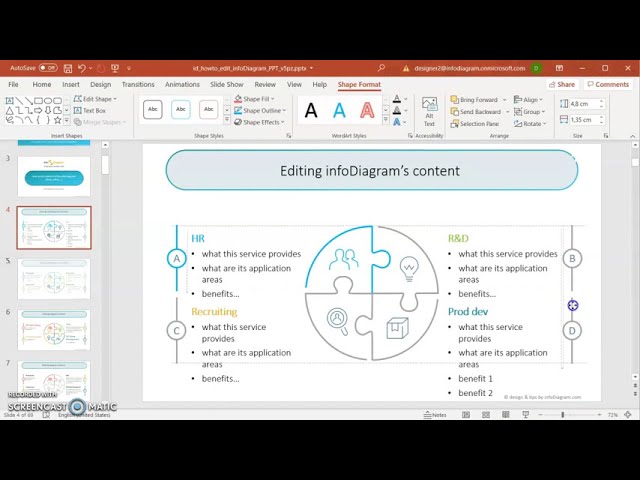 How to expand / shorten diagram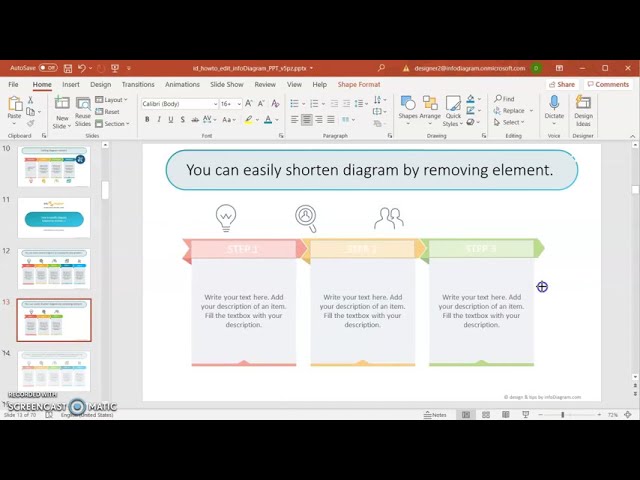 How to Replace Icons in infoDiagram PPT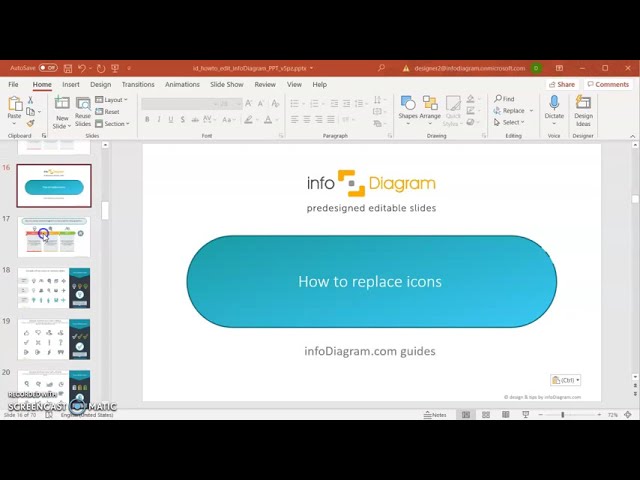 Conveyor Belt Production Line Graphics (PPT Template)