Reviews

Usage example

Description

How To Edit
Slides
Description
Presenting product share? Comparing market coverage data? Enrich your presentation with graphical doughnut and pie charts to make your slides attractive. Add your numbers and create eye-catching data-driven presentation with help our Doughnut Excel plots template.
16 pie chart and circle donut graphs (editable Office Excel charts) with graphical categories legend and textboxes for descriptions
16 pre-designed slide layouts with 2,3,4 pie charts product comparisons and scorecard gauge data-driven chart
6 and more flat vector icons to illustrate data categories: product package, Finance, Globe, process cogs. You can extend the symbols collection later on.
Format: fully editable vector shapes (modify colors of diagrams and icons, resize without quality loss
What is a donut chart in Office Excel or PowerPoint?
A doughnut or donut chart is a type of pie chart, where the middle part of the graph is an empty circle. Technically they visualize data the same purpose as an ordinary pie chart, however, they look lighter and this middle area can be used to add the key data value or symbol. However, if you use only a small size of the chart, the full circle pie chart is more visible.
Donut and pie charts represent data values by size of circle arc. Each chart category has arc size proportional to category value. The whole pie chart should represent 100%.
When to use Donut and Pie chart?
The pie chart and its subtypes such as a doughnut or 3d pies should be used to represent numerical values that compose a whole together. For example, a market share, a fraction of progress level, that finishes at 100%. The pie chart is well visible if there is a small number of categories, e.g. the top 4 products share compared to all the rest. Generally, pie charts are good to show rough proportions of categories.
When not to use Pie charts (and alike, donut circle graphs)?
Don't use donut and pie charts to visualize more than 8 categories, because it will become unreadable. Also if the category is too small (less than 5%) it's hardly visible on such a pie chart. In a pie chart it's harder to read exact comparison of arc sizes (if it's 2 times bigger than another arc or 1.5 times bigger), so if you want a reader to compare precisely categories values, it's recommended to use another type of data charts - column or bar charts, for example.
Why to use these pie charts template?
To create quickly enhanced professional look of your data presentation, reuse our PowerPoint graphics with illustrated donut charts and business icons.
Enrich your Excel graphs by visual legends, represent categories visually. You can find there basic business icon set that you can extend further (see Related Diagrams section).
Colors of all chart elements and icons are easy to modify (all graphics is a vector format). So you can change them to colors of your template or company brand.
Pie and Donut charts are one of the most commonly used charts. The pie charts are the most effective way while dealing with a small collection of data. They are divided into segments, the arc of each segment shows the proportional value of each piece of data. They are excellent for showing the relational proportions between data.
Pie and Donuts Charts Data-driven Graphics contain ready-to-use slides:
Products market share comparison charts in numbers
Market share comparison for four products styled with donut chart
Doughnut chart template for four categories
Market share comparison designed with doughnut chart/li>
Comparison chart statistics for two categories
Stylized pie diagram for presenting ratio
Creative pie charts illustrating sales by product
Global market share distribution statistics showed with pie graphics
Template donut charts illustrating different categories showcase
Data chart example for presenting categories breakdown
Two-, three-, four, five-, six products presenting comparison with doughnut chart
Financial performance KPI scorecard Gauge showed with pie chart graphics
Why use Pie and Donuts Chart graphics:
You have a small number of categories to compare
You need only simple proportions and not specific percentages/values/li>
You need to do a part-to-whole data analysis
You want to highlight your purpose simply and uniquely to your audience
By using modern pie and doughnut design your presentation will look professional, persuasive and logical
Fully editable in PowerPoint set of vector shapes fully editable by using built-in PowerPoint tools, including
changing color of the icon filling and its outline
adding shadows
changing shape and size, rotating, flipping the object
putting shapes behind or on top of text
See editing demonstration in
our HowTo Videos
.
Authors
infoDiagram's designer
Contact: here
Slides included in this PowerPoint Presentation:
How To Edit
How to edit text & colors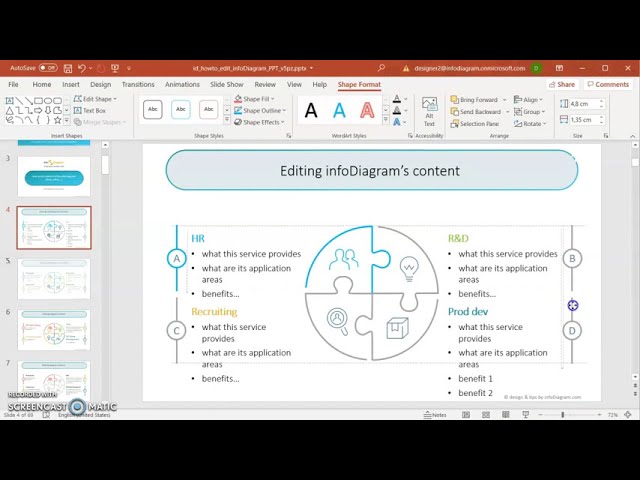 How to expand / shorten diagram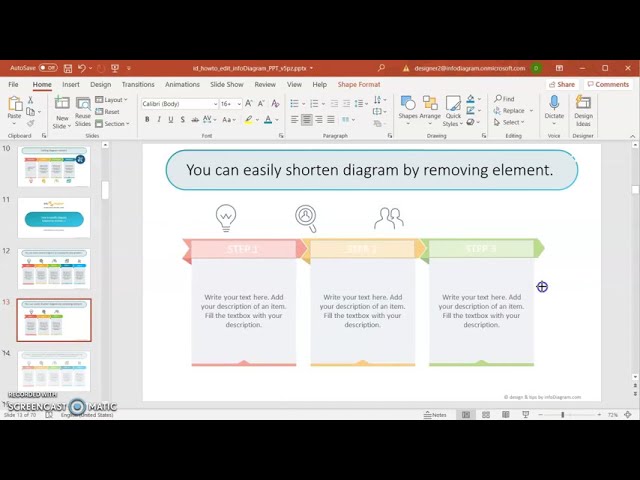 How to Replace Icons in infoDiagram PPT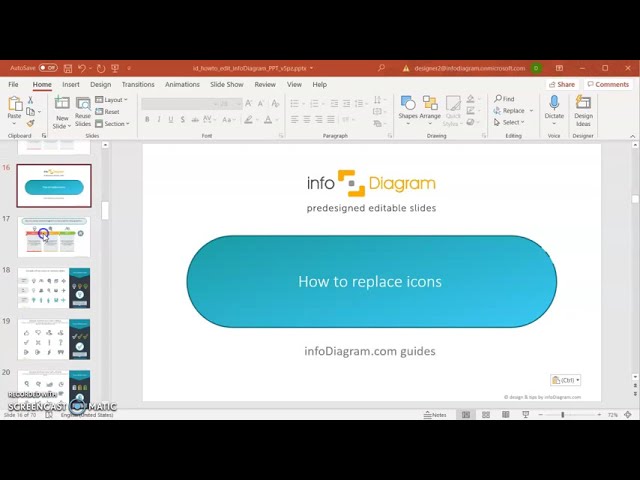 Pie and Donuts Chart Data-driven Graphics (PPT Template)