Reviews

Usage example

Description

How To Edit
Slides
Description
Need to present a selection procedure of candidates or sales funnel stages? Use flowcharts illustrating a filtering process. We've created filtering diagrams with a various number of steps you can add to make your presentation slides more comprehensive and interesting. All chart shapes are easy to modify, add or remove, as you need.
The Filtering process diagrams PowerPoint template contains:
24 illustrations of filtration - with vertical and horizontal flows, with 3,4,5 filter steps (you can add more by duplicating existing shapes), with ring or rectangle filters
examples of applying filter flowcharts to present customer purchasing stages or creative project implementation. The similar way you can present HR recruitment procedures or sales funnels.
modern flat infographics graphical style, simple and readable.
set of 15 icons (can be extended further) to present business concepts such as Awareness, Quality (Diamond), Observation (Binocular), Document sheet or Creativity Process
instruction how to modify those filtration diagrams using PowerPoint editing tools
Format: fully editable vector shapes (modify colors of diagrams and icons, resize without quality loss
Filter process diagrams: Why to use them in as a presentation visual?
The process of water filtration or particles in physics is a good visual metaphor to present multi-stage procedures. You can show how a gradual selection is done, filtering out many input items (clients, leads, users, job candidates) gradually over several levels, until you will get the best desired outcome.
How to use Filtration charts in a presentation
Here are examples where you can apply those diagrams:
Present a job candidate selection procedure in recruitment
Show a work flow process of creative project management - from Brief, Proposal stage, design and final publication.
Express a multi-level sequence clients selection
Create an infographics about lead to customer development
Consider using those PowerPoint charts to replace text bullets in your slides.
Filter Process Diagram is a unique funnel infographics template that shows the screening process. The filtering process is a widely used concept in business presentations. Whether it is an HR presentation talking about the recruitment of personnel for your organization, or a sales training about identifying your ideal customer from among a number of potential prospects – you can use filtering process everywhere.
Filter Process Diagram contains ready-to-use slides:
Three-, four-, five-, six filtration flowcharts with horizontal filtration design
Horizontal filtration process infographics on the dark background
Four-, five stages particles filtering process template shaped with flat icons
Example of sales funnel diagram: how to become a buying client
Client selection process design with text placeholders
Ring filters diagram for four steps with description boxes
Circular filters flowchart for four steps with description boxes
Ring filters diagram for four steps on the dark background
Client filtration horizontal ring infographics for five steps
Three filters filtration model designed with different graphical elements
Four levels vertical elements filtration model flow chart illustrated with flat icons
Density filtration diagram for six levels designed vertically with flat symbols
Template of project implementation slide emphasizing brief, proposal selection, contractor assignment, design process, publication stages
Horizontal filtration model for five stages designed as a tube
Horizontal filtration model graphics for five stages styled with colourful flat icons
Vertical funnel-, tube filtration diagram for five and six layers
Four stages layered model slide illustrated with drip filtration design
Multiple funnel filtration infographics for five inputs depicted with colourful flat symbols and description boxes
List diagram for four headers styled with funnel filtration design
Why use Filter Process Diagram graphics:
Easy to present a large amount of information because of structurized way by presenting client selection or recruitment processes. Filter Process slides will illustrate different stages in sales and marketings
Filter process PowerPoint diagram will make your presentation simple and understandable to your audience
Highlight your purpose simply and uniquely to your audience
By using modern outline design your presentation will look professional, persuasive and logical
All graphics are editable, so you can modify the colors and text. We added also a general icon collection at the end of the presentation deck. Optionally you can also extend the collection by more PPT symbols (see Related Diagrams section).
Photographs are included in the template. You can easily replace them as well by pictures of your own.
Fully editable in PowerPoint set of vector shapes fully editable by using built-in PowerPoint tools, including
change colors of all shapes filling and its outline, including icons
adding shadows
changing shape and size, rotating, flipping the object
putting shapes behind or on top of text
See editing demonstration in
our HowTo Videos
.
Authors
infoDiagram's designer
Contact: here
Slides included in this PowerPoint Presentation:
How To Edit
How to edit text & colors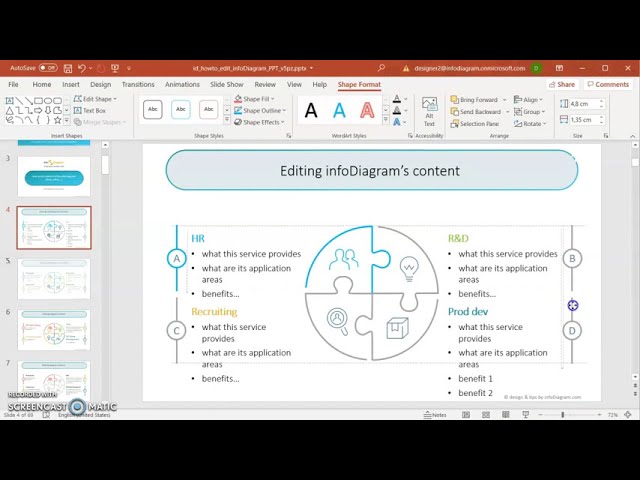 How to expand / shorten diagram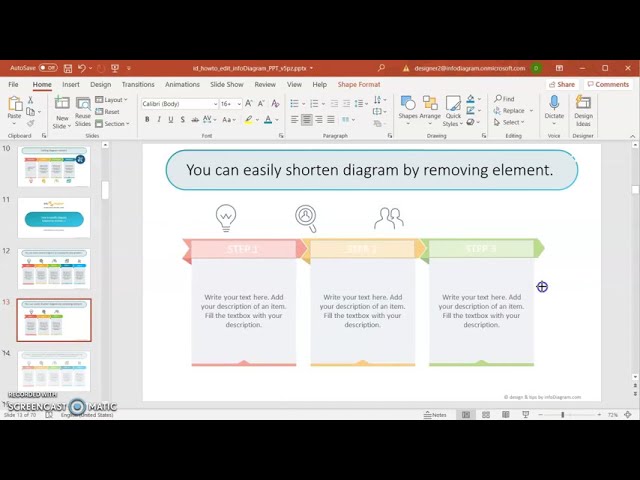 How to Replace Icons in infoDiagram PPT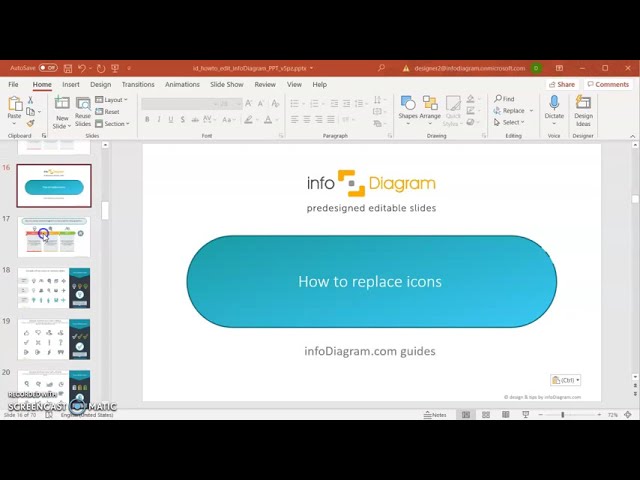 Filter Process Diagrams (PPT Template)