Reviews

Usage example

Description

How To Edit
Slides
Description
This blank iceberg diagram is a PowerPoint template you can use to present the analogy of a visible tip and hidden layers. The iceberg drawing is great for illustrating not psychology theory but also various management and communication levels. The iceberg infographics can be adapted to match various layers.
This PowerPoint iceberg template slides collection includes a set of modern outline and flat icons you can use to represent the iceberg tip or hidden layers.
The Iceberg PowerPoint template includes:
10 iceberg slides diagrams over various background layer stripes. We created also a lighter version of the outline iceberg that is a more subtle illustration, in case you want your slides to be less eye-catching. This format is also better if you want to print the presentation.
26 vector icons presenting levels of the system thinking model (observations, trends, influence, people's assumptions) and hidden product manufacturing costs layers such as transport, research, and testing
3 predesigned examples of Freud's iceberg theory, System Thinking Model, and Product cost iceberg
Format: fully editable vector shapes (modify colors of diagrams and icons, resize without quality loss
Why use the iceberg drawing analogy in a presentation?
The visual metaphor of the iceberg has wide applications. It's easy to grasp for your audience. It's easy to modify the iceberg diagram, add or remove layers, change descriptions and replace icons to fit the content. On the last slides, you have a set of several icons you can reuse or you can extend the icon collection by getting PPT icon set bundles (see Related Diagrams section).
The colors of iceberg shapes and icons are easy to change, thanks to that all graphics are in vector format. So you can adapt the slide content to your preferred branding colors. Just ensure the proper contrast of text and background to stay readable.
You can also add a simple animation to uncover underlying iceberg levels step by step.
You can use the iceberg analogy to represent various business areas:
the iceberg model of culture
illustrating iceberg theory in literature - analyzing writing style for example.
Or in psychology to present the iceberg concept theory of consciousness, illustrate the three basic levels of awareness or levels of human behavior (Freud's)
Other areas where the iceberg hidden levels metaphor can be used are Systems thinking
You may apply the iceberg for leadership models or interpersonal communication levels for soft-skills training.
Fully editable in PowerPoint set of vector shapes fully editable by using built-in PowerPoint tools
changing the color of the icon filling and its outline
adding shadows
changing shape and size, rotating, flipping the object
putting shapes behind or on top of text
Authors
infoDiagram's designer
Contact: here
Slides included in this PowerPoint Presentation:
How To Edit
How to edit text & colors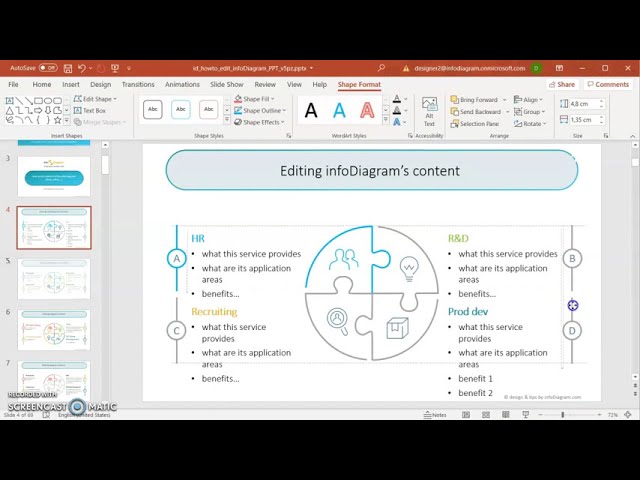 How to expand / shorten diagram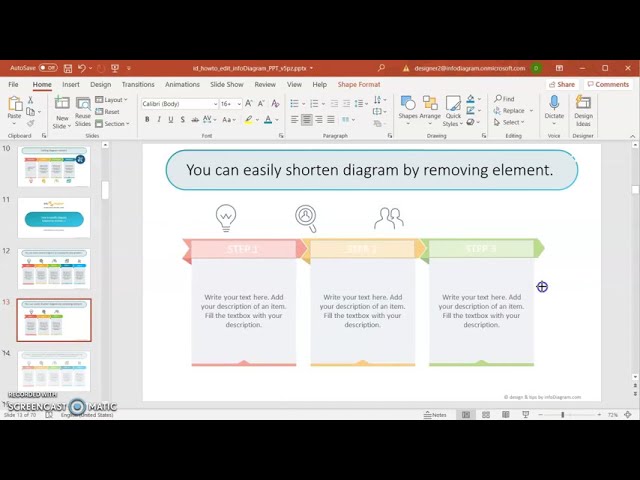 How to Replace Icons in infoDiagram PPT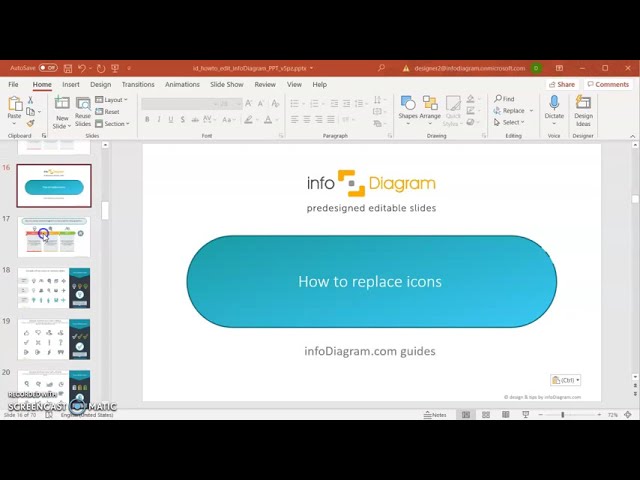 Iceberg Model Template (PPT diagrams)