Reviews

Usage example

Description

How To Edit
Slides
Description
Light presentation flow chart for presenting various multi-level hierarchies and dependencies by the visual diagram. Use those diagrams to present layered structures, n-tier IT architecture or market entrance levels.
Get inspired by those diagrams, reuse and adapt them to your needs. This template contains:
19 diagram layouts with illustrations of vertical levels, horizontal filtering layers, circular levels, 3 to 8 item multi-level diagrams
elegant modern outlined graphical style that will not overwhelm your slide
45 icons to illustrate levels in outline and flat style e.g. Globe, Destination, Target, Future Vision, Strategy Game, Research Phial, Analytical Thinking head, Bank building, House, Trophy Award and more
instruction how to modify those level diagrams using PowerPoint editing tools
Format: fully editable vector shapes (modify colors of diagrams and icons, resize without quality loss
Multi-level diagrams: When and why to use them in a presentation
The visual representation of several levels over each other is a graphical way to present structures that are composed of interlinked elements with a defined hierarchy. Examples where you can use those level diagram:
Show Maslow's Hierarchy of Needs that build each level on top of another one.
Present IT application logical parts: Data, Application and Presentation layer.
Presenting IT three-tier architecture model with client interface tier, application and database levels
In marketing represent market layers of Current Market, Soon-to-be layer, Refusing and Unknown yet layer
Consider using such diagrams to replace text bullets in your slides.
Content description
Multi-level Layer Diagrams contains ready-to-use slides:
Outline layers diagram on a dark background with description for each level;
Three application levels shown with outline structure diagram with icons;
Four items vertical layers tower shown with outline graphics and icons;
Five items layers tower diagram shown with outline graphics and text description;
Maslow's hierarchy of needs shown with outline layers graphics and flat icons;
Four levels centric dartboard diagram with text description and icons;
Layers diagram shown with centric orbit chart with text description on a dark background;
Stacked layers column diagram with description for each item;
IT architecture diagram shown with outline icons for each item: client tier, application tier, database tier;
Filter diagram with four layers shown with outline graphics and brief description;
Quarter circle layers diagram on a dark picture background with text description;
Four centric circle layers diagram with description and outline icons;
Four levels of professional development plans shown with outline diagram with text placeholders and icons for each stage;
Four-, five-,six-, seven-, eight- items 3D layers diagram with outline icons and text description;
Seven levels of OSI shown with outline pyramid graphics with brief description.
All graphics are editable, so you can modify the number of layers, add or remove one. We added also a general icon collection at the end of the presentation deck. Optionally you can also extend the collection by more PPT symbols (see Related Diagrams section).
Photographs are included in the template. You can easily replace them as well by pictures of your own.
Fully editable in PowerPoint set of vector shapes fully editable by using built-in PowerPoint tools, including
change color of all shapes filling and its outline, including icons
adding shadows
changing shape and size, rotating, flipping the object
putting shapes behind or on top of text
See editing demonstration in
our HowTo Videos
.
Authors
infoDiagram's designer
Contact: here
Slides included in this PowerPoint Presentation:
How To Edit
How to edit text & colors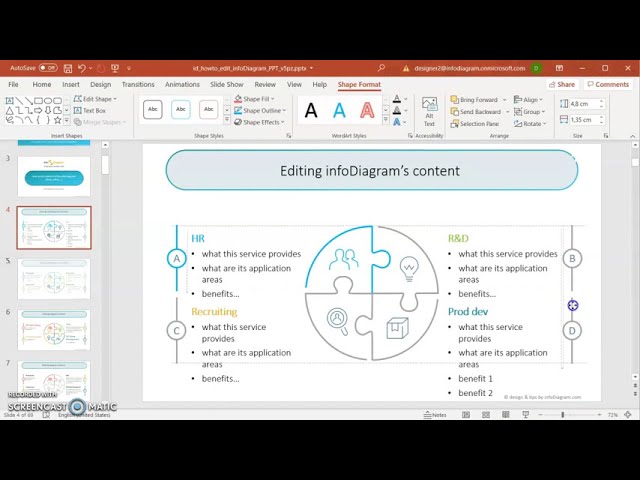 How to expand / shorten diagram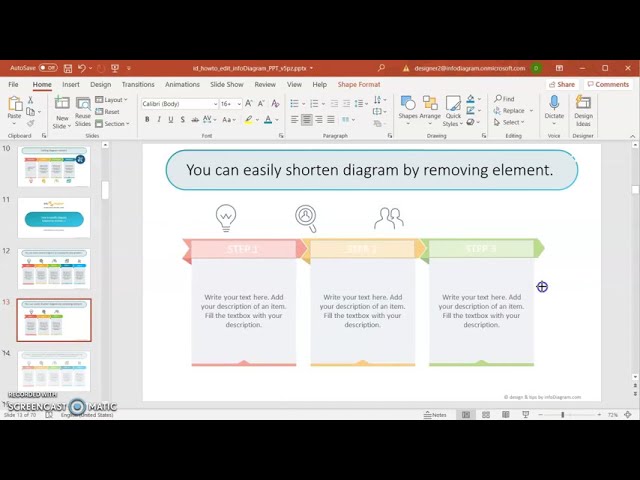 How to Replace Icons in infoDiagram PPT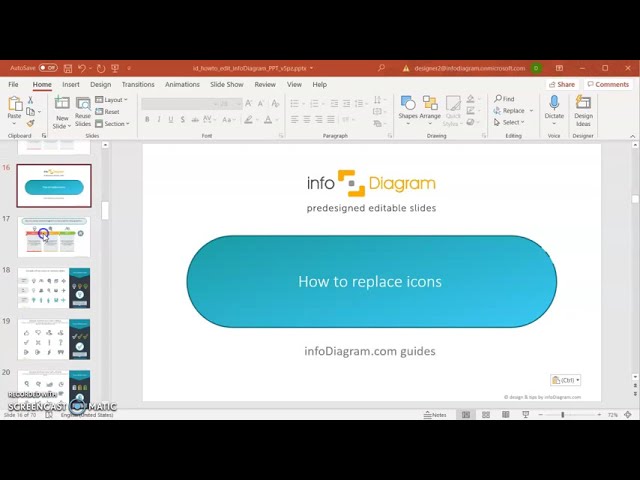 Multi-level Layer Diagrams (PPT Template)