Reviews

Usage example

Description

How To Edit
Slides
Description
Pipeline graphics is a handy visual metaphor to express various kinds of flow. You can use it to show process timeline, merging several inputs or fork out of one input into several results. We have designed a modern simple representation of pipes illustrations. Use them to present your business procedures, illustrate product development stages, for example.
This Pipe Shape Diagrams PowerPoint template contains:
19 editable flowcharts in various shapes (vertical flow, horizontal timeline, pipeline crossing, fork in and fork out)
simple flat graphical style that fits any presentation, looks professional, readable and eye-catching
30 business symbols to present concepts such as Partner, Message Delivery, Creative Idea Launch, Progress, Product, Media, Development, Security
instruction how to modify those level diagrams using PowerPoint editing tools
Format: fully editable vector shapes (modify colors of diagrams and icons, resize without quality loss
Pipeline Shaped Flow Charts: When to use them in as a presentation visual?
Concept of pipes visualization can be used when you have a sequence of events or procedure with steps ordered in a timely manner. Pipeline with its segments can show distribution or merging of an idea.
Pipe flow charts will help you illustrate the sequence of process development in detail, stage by stage clarifying and engaging your audience to it.
If the slide pictures were not persuasive enough, consider those advantages of using Pipe flow infographics in your presentation:
easy to perceive a larger amount of information thanks to structurized way while presenting the problem causes
possibility to explain complex concepts with colorful icons
you can break the diagram into several parts by color coding
by using modern yet simple graphics, you can make the slide look professional, readable and people will be amazed by your presentation
Pipe Flow Chart Diagrams contain pre-designed slides:
Pipe intersection diagram for four elements with flat multicolor icons
Horizontal 6 steps flowchart slide shown as pipe roadmap with description boxes
Product development stages slide template: idea generation & screening, market research, concept development, product design & development, testing, launching
Four-, five- months and half year process illustrated with vertical pipeline timeline with symbols
Pipe diagram example showing production & research company merge / joint venture process
Two-, three inputs-output system described with pipe joint slide
Pipe converging diagram for three-, four-, five inputs- output system with colourful symbols and description on the side
Pipe flow graphics depicting the process of forking out into two-, three-, four-, five outputs with the help of modern symbols
Example of multiple inflow & outflow map slide
Three-, four - elements pipeline infographics showing the result of the process with description tables and flat icons
Input/outputs processes shown with pipeline graphics
Consider using those PowerPoint charts to replace text bullets in your slides.
All graphics are editable, so you can modify the colors and text. We added also a general icon collection at the end of the presentation deck. Optionally you can also extend the collection by more PPT symbols (see Related Diagrams section).
Photographs are included in the template. You can easily replace them as well by pictures of your own.
Fully editable in PowerPoint set of vector shapes fully editable by using built-in PowerPoint tools, including
change the color of all shapes filling and its outline, including icons
adding shadows
changing shape and size, rotating, flipping the object
putting shapes behind or on top of text
See editing demonstration in
our HowTo Videos
.
Authors
infoDiagram's designer
Contact: here
Slides included in this PowerPoint Presentation:
How To Edit
How to edit text & colors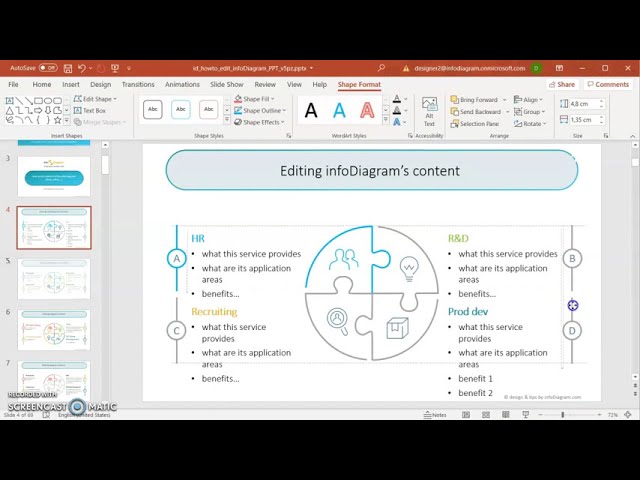 How to expand / shorten diagram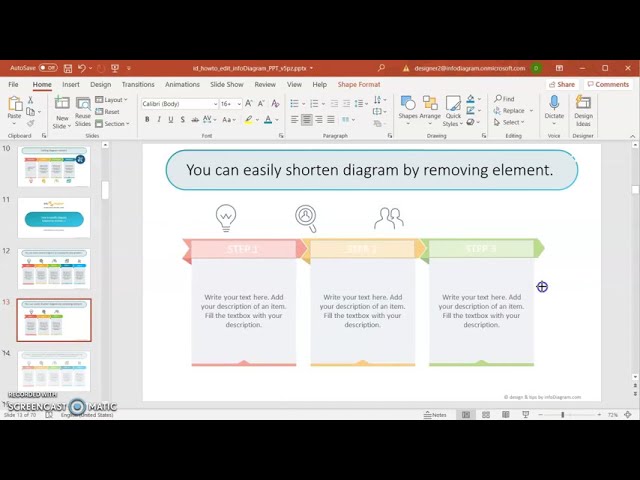 How to Replace Icons in infoDiagram PPT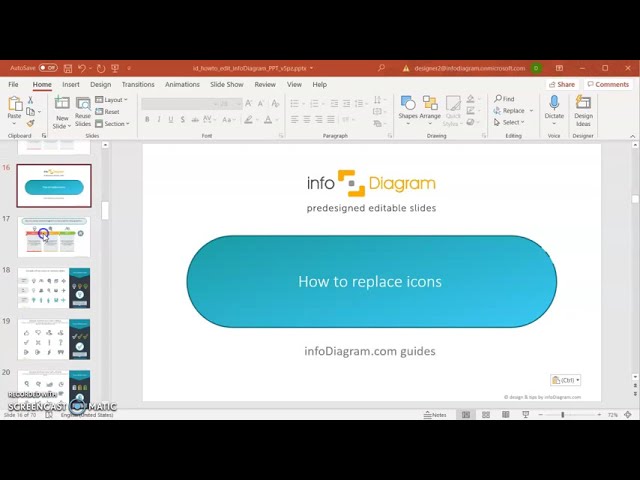 Pipe Flow Chart Diagrams (PPT Template)