Reviews

Usage example

Description

How To Edit
Slides
Description
PowerPoint Roadmaps template with editable tables
This slide-deck contains PPT tables for project management, product development and business strategy planning. We included reusable examples of agile project roadmaps or software app product development plans. Using editable roadmap tables you can easily show your project milestones or present company objectives over a year.
The content of the roadmaps template slide deck includes:
12 unique modern flat design roadmap tables template with illustratory icons, timeline arrows, various numbers of rows and columns
editable examples of the product roadmap, business strategy plan, agile project roadmap or software development chart
rectangle table roadmaps and centric circular axes roadmap chart with towards one common goal timeline
extendable set of 35 flat and outline icons for road map infographics
instruction on how to modify the roadmap charts using PowerPoint editing tools
Format: fully editable vector shapes and native PowerPoint tables (you can modify colors, change size without quality loss)
What is a PowerPoint Roadmap graphics?
A graphical representation of the time plan of a product development or company strategy over next months or years. Roadmap has usually a form of a table where you show duration of project tasks, milestones and deadlines. [USAGE AREAS]
How to use PowerPoint Roadmaps Template in your presentation?
Using the Roadmaps template is pretty straightforward. Choose anc copy the slide with the roadmap template that fits you the best and modify it (change dates, move arrows). Most roadmaps have a form of standard PowerPoint table objects. Therefore you can easily add or remove columns or adjust their width. When you copy the slide from the infoDiagram template to your company presentation, the colors will change to your corporate palette. But you can choose an option to keep the original colors - by Paste Special option of the slide and selecting use the "Keep source formatting".
A few ideas where you can apply those roadmap illustrations:
Present a long-term strategy of a company
Show a history of your business activities
Plan a product development and launch, considering various departments and teams
Manage an agile software development process
Why to use those roadmap tables as your presentation visuals?
Unlike standard PowerPoint tables, these roadmaps have a preset vivid and readable colors. Such roadmap plans are more attractive to look at and will keep attention of your audience on the plans.
You can use one of attached icons to illustrate deadlines or various teams involved in your projects. You can extend it by getting wider PPT icon set (see Related Diagrams section).
You can add explanations and summaries in predesigned side description boxes.
Colors of these diagram shapes and icons are editable (all graphics is a vector format). So you can change them to colors of your brand template.
Content description of PowerPoint Roadmap Template
Product and Strategy Roadmap slide deck contains ready-to-use slides:
Quarterly and yearly timelines for company business strategy illustration: table with flat arrows and outline icons on a picture background.
Product release and app development roadmaps illustrated with colorful tables and modern flat icons.
App software product roadmap illustrated with outline table with arrows.
Technology roadmap diagram presented with multicolored rectangles.
Centric circles roadmap in two versions: on light and dark background.
Two-, three-, four-, five categories product development roadmaps illustrated with colorful tables and flat icons.
Roadmap timeline template illustrated with arrow, which shows years,and text placeholder.
Three-five years roadmap slide illustrated with colorful table with a place for description.
Icons included in Product and Strategy roadmap diagram:
Outline Icons for Roadmap Tables: Rocket, Launch, Stars, New Feature, Target, Goal, Tool, Fixing, Cogs, Process, Checkmark, Approval, Megaphone, Announcement, Marketing, Laptop, Computer, Mobile Phone, Web.
Flat symbols set: Rocket, Launch, Stars, New Feature, Target, Goal, Tool, Fixing, Cogs, Process, Checkmark, Approval, Megaphone, Announcement, Marketing, Laptop, Computer, Mobile Phone, Web.
Further Resources and Roadmap examples
Definitions
[DETAILED CONTENT – rewrite titles of slides in form of natural language - There are X charts. The first one, the next one... Finally there ... .]
Roadmap PPT Template content:
Roadmaps with pictures, for yearly description of your product
Quater descriptions available in different colors
Roadmaps for description of year goals
Steps and stages of your project
Descrition of project phases
Roadmap infographics for several projects
Target roadmap
Past and Future Projects status path direction sign image
Skyline pathway departments roadmap flat infographics
Four and six aims milestones roadmap infographics
Circular 6 steps roadmap arrow timeline diagram
Linear 5 stages roadmap icon signs timeline
Linear project plan roadmap arrow – four and nine stages
Nine steps timeline roadmap with signpost icons
Eight steps timeline roadmap flat chain infographics
Monthly plan roadmap timeline dotted arrow
Monthly project plan roadmap timeline
Fully editable roadmap illustration icons
Fully editable in PowerPoint set of vector shapes fully editable by using built-in PowerPoint tools, including
changing color of the icon filling and its outline
adding shadows
changing shape and size, rotating, flipping the object
putting shapes behind or on top of text
See editing demonstration in
our HowTo Videos
.
Authors
infoDiagram's designer
Contact: here
Slides included in this PowerPoint Presentation:
How To Edit
How to edit text & colors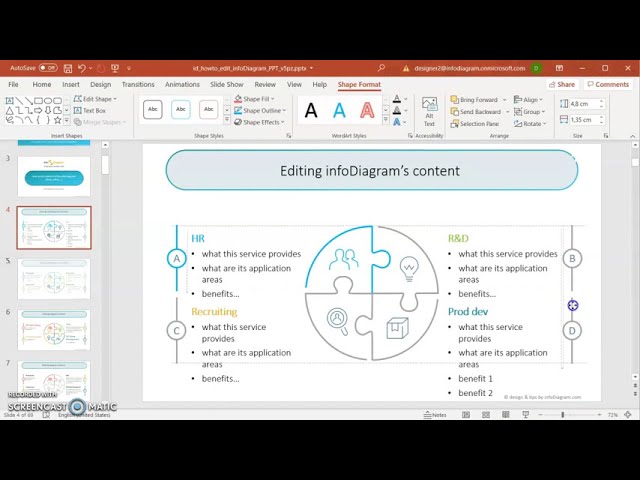 How to expand / shorten diagram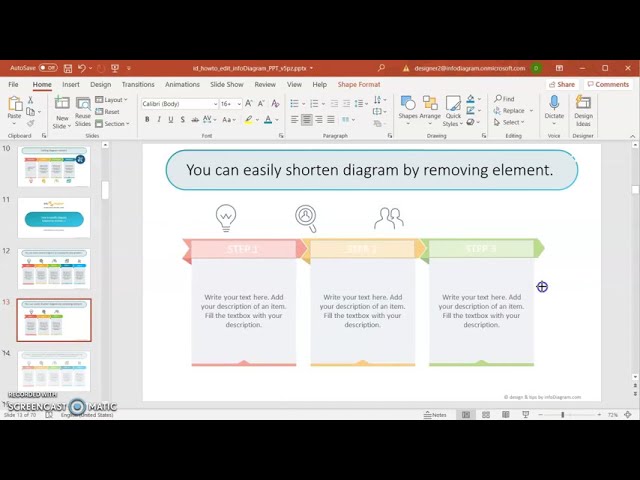 How to Replace Icons in infoDiagram PPT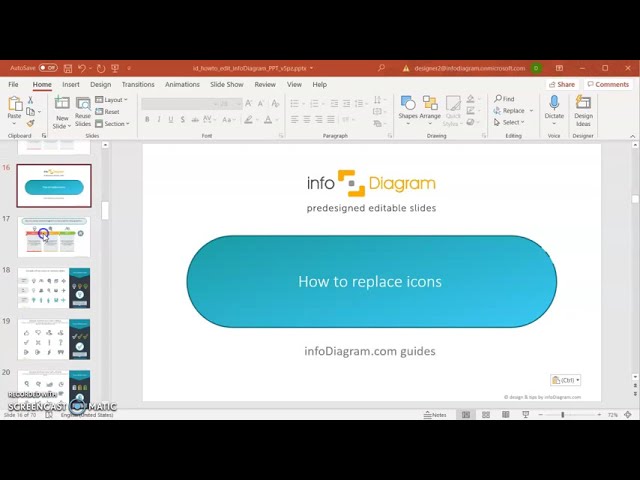 PowerPoint Roadmap Template for Product Strategy Presentation (PPT Tables)