Reviews

Usage example

Description

How To Edit
Slides
Description
If you are looking for an engaging way to show categories, and the results of a survey, or you need to create a multi-level pie chart, you can use our easy-to-edit radial diagrams. A radial chart is an informative visual tool in which multiple variables (three or more) are compared on a two-dimensional plane. You can use a radial fan chart in any situation when you need to represent multivariable information in a 2D plane. It will make your data look impactful and listeners or readers won't feel an information overload.
This Radial Diagram Fan Chart Infographics set contains:
12 diagrams to illustrate radial fan chart, sunburst diagram, organization hierarchy, and polar area chart.
Two graphical styles - modern flat style and lighter slick outline style. Use them to create appealing slides and create an informative and impressive presentation.
46 flat and outline symbols to show various business concepts e.g.Team, Group, Teamwork, Meeting, Income, Business, Data Science, Bullseye, Strategy, Gender, Travel, Small Countryside, Metropolis, Premises.
Instruction on how to modify those diagrams using standard PowerPoint editing tools.
Format: fully editable vector shapes (modify colors of diagrams and icons, resize without quality loss)
What is a Radial Diagram?
Radial diagrams, also called fan charts, because of their shape, are used to plot data in a circular way around one central point. These charts represent the value of the data variable by the diameter size of the arc, the higher the value, the bigger the arc diameter, but not its angle. Radial charts are a creative way to illustrate statistics, survey results, demographic categories, marketing strategy projects, or any multi-layer information. They are also called polar area charts, spider diagrams, and coxcomb diagrams. These types of radial charts are great for comparing several categories, especially if you have many of them, and they are more visual than column charts. You can also use color coding to present and compare different entities easily.
Where can you use the Radial Diagram Fan Chart Infographics?
Using visualizations and infographics will help you find clear creative ways to show complex data and you'll be able to focus your audience's attention on important ideas.
Create a horizontal radial diagram showing various demographic categories, e.g. Adults, Children, Elderly age segments. You can adjust the number of categories and segments.
Illustrate 5-categories survey result statistics fan diagram with gender levels: Male, Female, and Total.
Visualize poll results with radial chart infographics containing categories with 3 Levels of Area of Residence.
Design a fan diagram with 4 attribute characteristics and 7 demographic categories: Education, Earning, Job, Location, Shopping Behavior, and Living.
Illustrate polar area chart and coxcomb infographic.
Create an attractive rose diagram template.
Design a half-wheel sunburst diagram template.
Present business values in a creative way using a radar diagram with the following values: Integrity, Leadership, Ingenuity, Teamwork, Creativity, and Strategy.
Illustrate a circular organization chart.
Radial diagram fan chart collection contains pre-designed slides:
Horizontal radial diagram for five categories with adults, children, and elderly age segments
Survey result statistics fan diagram five categories with three gender levels: male, female, overall
Statistics fan diagram with six consumer demographic categories with male, female, and overall segments
Poll results in radial chart infographics with seven colorful categories
Survey report radial chart with outline graphics for seven categories with male, female, and overall segments
Fan diagram for seven demographic categories with four attribute characteristics: education, earning, job, location, shopping behavior, living symbols
Polar area chart infographic for five categories
Coxcomb infographic for six categories
Rose diagram for twelve categories
Half wheel sunburst diagram for six categories
Business values radar diagram with integrity, leadership, ingenuity, teamwork, creativity, strategy
Circular organization chart with three hierarchy levels
Try using those PowerPoint illustrations to present your content visually in an elegant way.
All graphics are editable, so you can modify the colors and text. We also added a general icon collection at the end of the presentation deck. Optionally you can also extend the collection by more PPT symbols (see Related Diagrams section).
Fully editable in PowerPoint set of vector shapes fully editable by using built-in PowerPoint tools, including
change the color of all shapes filling and their outline, including icons
adding shadows
changing shape and size, rotating, flipping the object
putting shapes behind or on top of text
See the editing demonstration in
our HowTo Videos
.
Authors
infoDiagram's designer
Contact: here
Slides included in this PowerPoint Presentation:
How To Edit
How to edit text & colors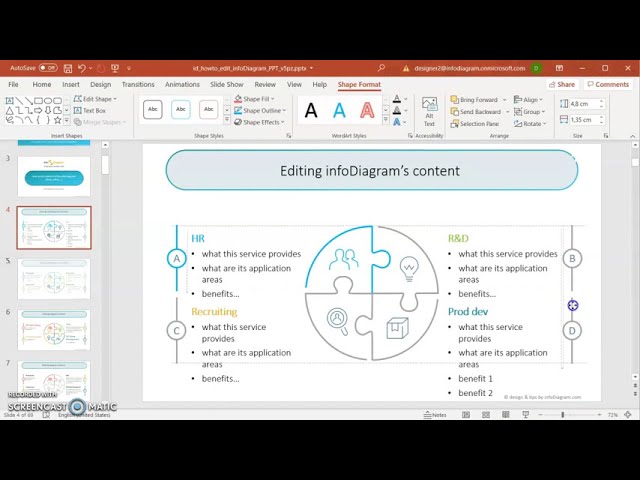 How to expand / shorten diagram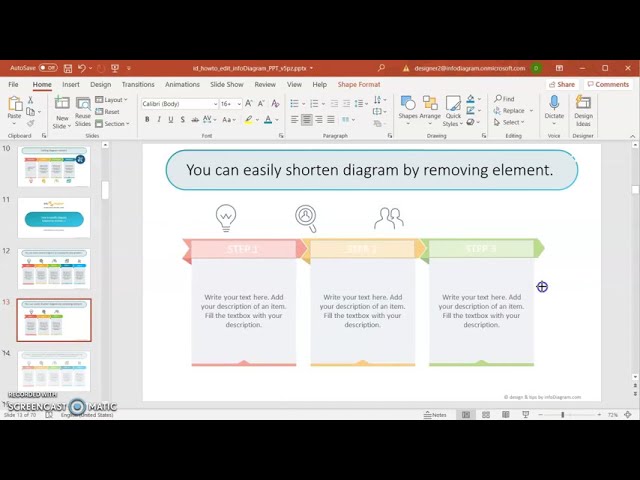 How to Replace Icons in infoDiagram PPT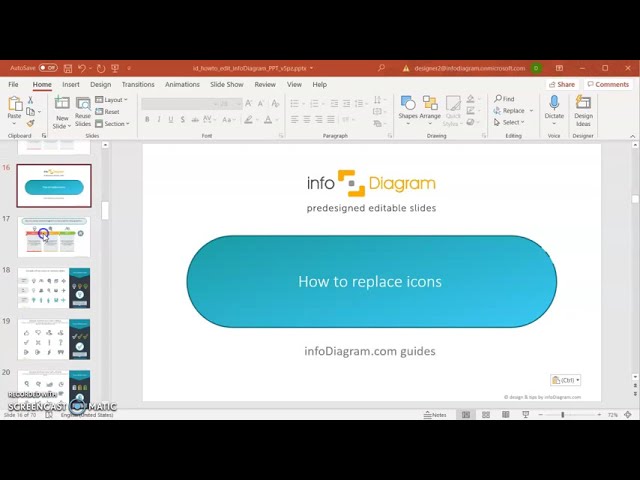 Radial Diagram Fan Chart Infographics (PPT Template)