Reviews

Usage example

Description

How To Edit
Slides
Description
Trend Radars are great for visualizing future trend estimations. We've designed PPT diagrams that you can use to illustrate trends and analysis in an engaging way. The deck has multiple trend radars you can use for various topics and concepts such as business, technology, marketing, and even yearly roadmaps.
The Trend Radar PowerPoint Templates contain:
14 trend radar diagrams to present technology trends, business, and market analysis.
Slides are designed in a modern flat style. Use them to create an engaging presentation: Get your audience to interact with your content and achieve more involvement.
14 outline and flat symbols to show various business concepts e.g. Deal, Environment, Society, Strategy, Research, Income, Smart Processes, Artificial Intelligence, IoT, Robotics, Manufacturing, and Tactics.
Instruction on how to modify those diagrams using standard PowerPoint editing tools.
Format: Fully editable vector shapes (modify colors of diagrams and icons, resize without quality loss).
What is the Trend Radar PowerPoint Template?
Trend radars are perfect for showing market trends. You can easily present a comparison of several categories, performance metrics, and industry trends utilizing the trend radars. You can either use the whole radar trends template to show the overview of all categories to compare them or break it down to focus attention on a specific category or industry and underline more details. Either way, your trend slide will bring harmony to your presentation design and you'll be able to prepare a more creative presentation.
Where can you use the Trend Radar Chart?
Trend radar diagrams will help you put your ideas into graphics easily and save you a lot of time on the design.
Present market trends using a 2-categories radar slide template.
Compare future Business and Technology trending solutions in one diagram.
Visualize industry areas with trends radar chart including Hold, Assess, Trial, and Adopt development stages.
Design professional IT trends radar diagrams with the Internet of Things, Artificial Intelligence, User Centric Worlds, and Data Era elements.
Illustrate category details with a radar trend diagram in the shape of a pizza slice :)
Show trends in various industries using the half-circle trend radar chart.
Visualize customer management trends with a colorful trend radar chart.
Present yearly timeline and goals with radar arc roadmap chart. Use our slide template on a black background to add a stylish touch to your presentation.
Trend Radar charts collection contains pre-designed slides:
Market trend radar diagram with two categories
Business and technology trend solutions radar diagram
Trend radar template for market analysis
Industry areas trends radar template with hold, assess, trial, adopt development stages
IT trends radar diagram with Internet of things, artificial intelligence, user centric worlds, data era
IT trends radar with IoT category details: smart home, smart textiles, digital health, wearables, robotics, industrial Internet of things
IT trends radar with AI category details: predictive analytics, smart chatbots, autonomous vehicles, decisions, process automation
IT trends radar with one category details slice template
IT trends radar diagram - data storage technologies
Half circle trend radar chart for five categories
General business trends radar graphics
Customer management trends radar diagram with clients, process, technology categories and linear rulers scale
Radar arc roadmap chart on the dark background
Radar arc roadmap chart: yearly timeline with goal template
Try using those PowerPoint illustrations to present your content visually in an elegant way.
All graphics are editable, so you can modify the colors and text. We also added a general icon collection at the end of the presentation deck. Optionally you can also extend the collection by more PPT symbols (see Related Diagrams section).
Fully editable in PowerPoint set of vector shapes fully editable by using built-in PowerPoint tools, including
change the color of all shapes filling and their outline, including icons
adding shadows
changing shape and size, rotating, flipping the object
putting shapes behind or on top of text
See the editing demonstration in
our HowTo Videos
.
Authors
infoDiagram's designer
Contact: here
Slides included in this PowerPoint Presentation:
How To Edit
How to edit text & colors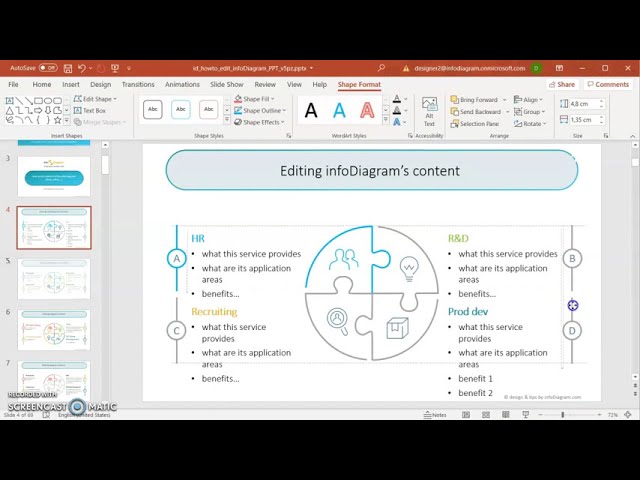 How to expand / shorten diagram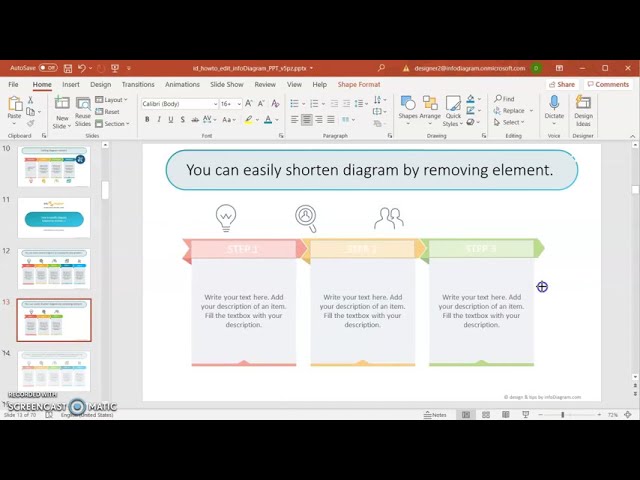 How to Replace Icons in infoDiagram PPT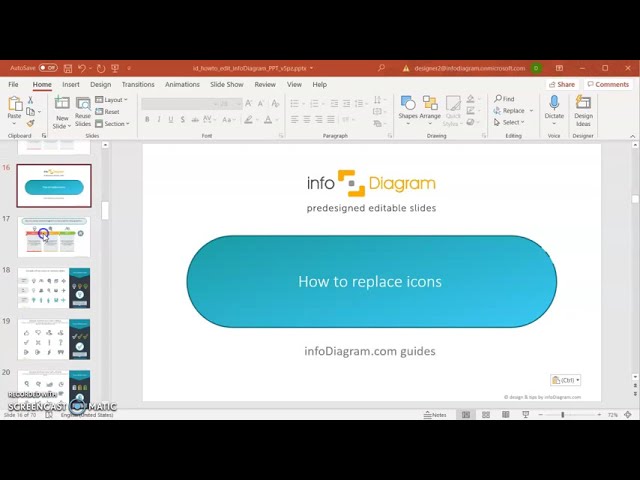 Business Trend Radar Charts for Market Analysis (PPT Template)